The Tea Masters Loose Leaf Tea - Decaf English Breakfast - Kenyan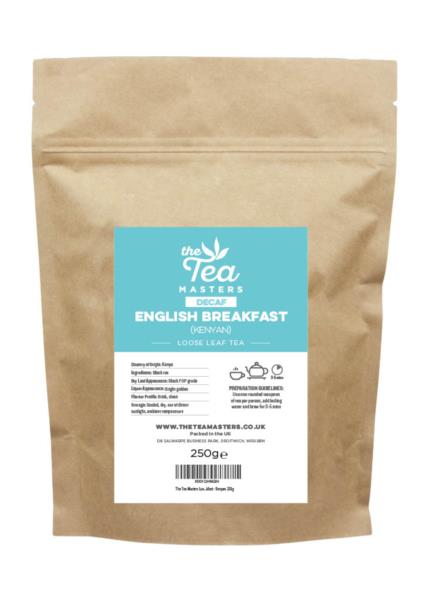 1 x 250g Loose Leaf Tea
Loose Leaf Tea Kenyan Decaf English Breakfast
The Perfect Loose Leaf Decaf Tea
100% Pure Black Tea Leaves
Pour boiling water straight onto tea, brew for 3-5 minutes.
Click here to read full description >
Description
Delivery Rates
The Traditional Loose Leaf Tea English Breakfast Blend - Enjoy a steaming cup of premium quality richly flavored black decaf tea from The Tea Masters.
Whether you're looking for a hearty breakfast drink or for teatime, our English tea blend is the perfect fit. An ideal caffeine-free loose tea to enjoy during pregnancy and before bedtime.
100% Pure Black Loose Tea Leaves - We pride ourselves on sourcing only the finest ingredients to brew the finest-tasting teas. All of our black loose leaf tea selection have been carefully selected, dried, and packaged to preserve freshness and great taste.
Description

The Traditional Loose Leaf Tea English Breakfast Blend - Enjoy a steaming cup of premium quality richly flavored black decaf tea from The Tea Masters.

Whether you're looking for a hearty breakfast drink or for teatime, our English tea blend is the perfect fit. An ideal caffeine-free loose tea to enjoy during pregnancy and before bedtime.

100% Pure Black Loose Tea Leaves - We pride ourselves on sourcing only the finest ingredients to brew the finest-tasting teas. All of our black loose leaf tea selection have been carefully selected, dried, and packaged to preserve freshness and great taste.

Delivery Rates

Delivery Service

Minimum Spend £12.50

Royal Mail Tracked - Standard

Free

Courier - Next Working Day

£4.99

Courier - Next Working Day Before Midday

£12.60

Courier - Channel Islands (2-4 Day)

£23.94

Courier - Northern Ireland (2-3 Days)

£23.94

Courier - Scotland/Highlands (2-3 Days)

£23.94