Conti Monte Carlo - M3 Coffee Machine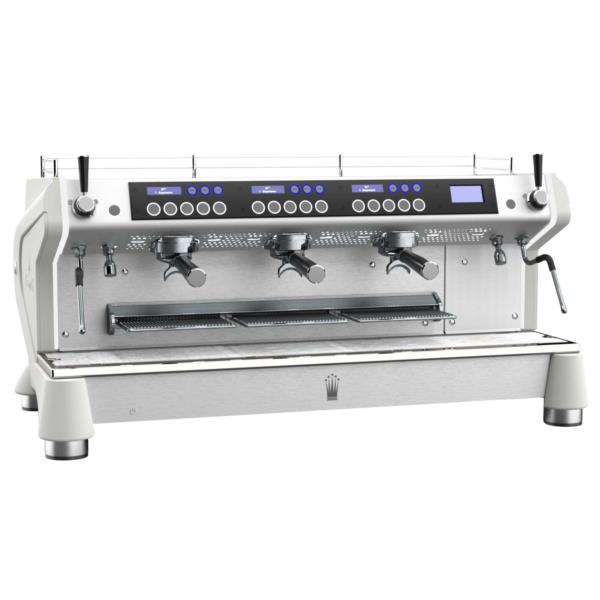 Description
Downloads (1)
Conti MONTE CARLO Espresso Machine
Conceived for the most discerning, Barista, Roaster or any serious operator, the Monte Carlo has a harmonious combination of style, practicality, precision build quality and advanced technology to ensure it is a future proof consideration for any outlet.
New multi-boiler technology
Features that make this machine stand out from the crowd
Independent coffee boilers (0.9L) - Each thermally isolated and temperature controlled by PID system, keeping group temperatures to within +/- 1°C tolerance allowing the barista to adjust boiler which helps to find the 'sweet spot' for the chosen coffee.
Slow pre-infusion system - Which can be set independently on each coffee group.
Automatic group cleaning function - Makes cleaning simple and frees you up to do other things!
Eco Mode - Drops the boiler temperature to 60°C - perfect for quiet periods or overnight and enables the machine to heat up faster for service. No need to switch the machine off anymore!
LED Barista Lights - Over the working space let you see the perfect extraction, work cleaner and be more efficient.
TCI system - Allows individual group temperatures to be adjusted, by way of cold water injection into the group – this not only achieves consistency and extreme stability, it allows the site to increase main steam boiler temperature therefore pressure, to increase steam volume and hourly output.
Flow Control system - Controls and stabilises the idle temperature of the coffee water (by adjusting the speed at which the coffee water flows through the thermo-syphon) which helps avoid coffee water sitting within the group, going stale and overheating.
Dual Hot Water Taps - Electrically activated allowing different temperatures for tea.
Cool touch steam wand - With non-stick coating.
Enhanced Aesthetics - Including additional LED's, chrome finish to side panels, body-coloured front panels, polished effect steam paddles and illuminated Conti branding to rear panel.
Can be colour matched to your grinder - Really stand out from your competition by colour matching your grinder and your coffee machine - find out more.
Technical Features
Internal rotative pump adjustable from the outside
Copper steam boiler thermally insulated
Volumetric dosing
2 pressure gauges: boiler pressure and pump pressure
Heating element protected by klixon
Advanced Diagnostic system with 'eye-level display assist in fault diagnosis, service and filter change intervals, coffee counters, shot timers and boiler temperature.
Advanced Thermosyphon system with adjustable flow control ensures maximum temperature, stability and consistency.
2 x Lever Activated Steam Arms for ease of use
Group isolation system allows individual groups to be worked on whilst the machine is in service limiting 'downtime' and loss of productivity.
Dual pressure gauges, one to measure mains and pump pressure, one for boiler pressure.
Direct access to the parameters setting of each coffee group.
Parameters of each group can be set independently.
Keypad with large keys and surrounding lights.
1 general touch screen display for the main features of the machine.
1 graphic display per group.
Cleaning 'shut down' if the machine is not cleaned it will not work.
This protects the machine from damage.
Cup heights: Espresso - 80mm Tall Cup - 140mm
Machine model options 2 Group Espresso 2 Group Tall Cup (no extra cost) 3 Group Espresso 3 Group Tall Cup (no extra cost)
Optional extras Automatic Steam Control – steam arm adds texture to milk and can be set to desired temperature (switches off once temp reached) – avoids scalded milk.
Solo kit (machine can work with a water container)
Available colours Available in, matte Black or matte White Customise and choose your own colour Choose any colour (extra £250 and longer lead time)
Technical specification
2 Group Power - 4500w (20amp) - option to upgrade to 6700w (30amp) Size - 868mm wide x 566mm high x 612mm deep Boiler capacity - 10litre
Weight - 70kg
3 Group Power - 6000w (30amp) - option to upgrade to 7600w (30amp) Size - 1098mm wide x 566mm high x 612mm deep Boiler capacity - 14litre
Weight - 86kg
Description

Conti MONTE CARLO Espresso Machine

Conceived for the most discerning, Barista, Roaster or any serious operator, the Monte Carlo has a harmonious combination of style, practicality, precision build quality and advanced technology to ensure it is a future proof consideration for any outlet.

New multi-boiler technology

Features that make this machine stand out from the crowd

Independent coffee boilers (0.9L) - Each thermally isolated and temperature controlled by PID system, keeping group temperatures to within +/- 1°C tolerance allowing the barista to adjust boiler which helps to find the 'sweet spot' for the chosen coffee.

Slow pre-infusion system - Which can be set independently on each coffee group.

Automatic group cleaning function - Makes cleaning simple and frees you up to do other things!

Eco Mode - Drops the boiler temperature to 60°C - perfect for quiet periods or overnight and enables the machine to heat up faster for service. No need to switch the machine off anymore!

LED Barista Lights - Over the working space let you see the perfect extraction, work cleaner and be more efficient.

TCI system - Allows individual group temperatures to be adjusted, by way of cold water injection into the group – this not only achieves consistency and extreme stability, it allows the site to increase main steam boiler temperature therefore pressure, to increase steam volume and hourly output.

Flow Control system - Controls and stabilises the idle temperature of the coffee water (by adjusting the speed at which the coffee water flows through the thermo-syphon) which helps avoid coffee water sitting within the group, going stale and overheating.

Dual Hot Water Taps - Electrically activated allowing different temperatures for tea.

Cool touch steam wand - With non-stick coating.

Enhanced Aesthetics - Including additional LED's, chrome finish to side panels, body-coloured front panels, polished effect steam paddles and illuminated Conti branding to rear panel.

Can be colour matched to your grinder - Really stand out from your competition by colour matching your grinder and your coffee machine - find out more.

Technical Features

Internal rotative pump adjustable from the outside
Copper steam boiler thermally insulated
Volumetric dosing
2 pressure gauges: boiler pressure and pump pressure
Heating element protected by klixon
Advanced Diagnostic system with 'eye-level display assist in fault diagnosis, service and filter change intervals, coffee counters, shot timers and boiler temperature.
Advanced Thermosyphon system with adjustable flow control ensures maximum temperature, stability and consistency.
2 x Lever Activated Steam Arms for ease of use
Group isolation system allows individual groups to be worked on whilst the machine is in service limiting 'downtime' and loss of productivity.
Dual pressure gauges, one to measure mains and pump pressure, one for boiler pressure.
Direct access to the parameters setting of each coffee group.
Parameters of each group can be set independently.
Keypad with large keys and surrounding lights.
1 general touch screen display for the main features of the machine.
1 graphic display per group.
Cleaning 'shut down' if the machine is not cleaned it will not work.
This protects the machine from damage.
Cup heights: Espresso - 80mm Tall Cup - 140mm
Machine model options 2 Group Espresso 2 Group Tall Cup (no extra cost) 3 Group Espresso 3 Group Tall Cup (no extra cost)
Optional extras Automatic Steam Control – steam arm adds texture to milk and can be set to desired temperature (switches off once temp reached) – avoids scalded milk.
Solo kit (machine can work with a water container)
Available colours Available in, matte Black or matte White Customise and choose your own colour Choose any colour (extra £250 and longer lead time)

Technical specification

2 Group Power - 4500w (20amp) - option to upgrade to 6700w (30amp) Size - 868mm wide x 566mm high x 612mm deep Boiler capacity - 10litre
Weight - 70kg
3 Group Power - 6000w (30amp) - option to upgrade to 7600w (30amp) Size - 1098mm wide x 566mm high x 612mm deep Boiler capacity - 14litre
Weight - 86kg

Downloads (1)