Flojet Pump Kit - BW5003-000A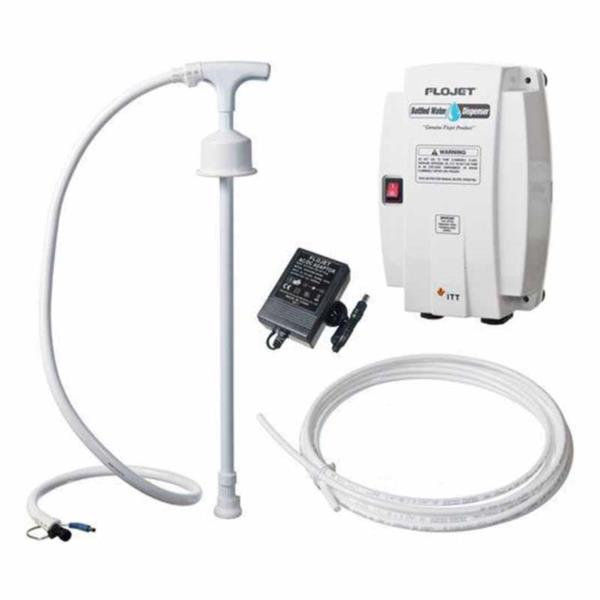 Flojet Pump Kit - BW5003-000A
240v Dual Inlet
For remote locations where water supply is inaccessible
Bottled Water Pump
Auto Shut Off
Ease of Use
For Use With Coffee Machines
Click here to read full description >
Description
Delivery Rates
Flojet Bottled Water Dispenser Pump To Be Used With 3/8" OD Tubing.
Fitted with a UK 3 pin plug, and this pump has a maximum flow of approximately 3.8 litres per minute.
Perfect for use with water bottles, or to feed a coffee machine or as part of a caravan installation when no mains water is readily available.
When a water bottle is connected to the system, fresh water is available for use with coffee/tea machines, water dispensers, refrigerators, ice makers, or any other application where potable water is needed.
The Flojet is designed for convenience - the pump shuts off when the water source is depleted, and when water is restored, the pump will automatically restart. This eliminates the chance of any damage to the appliance from dry running.
Long Life Motor Ensures years of reliable operation. Flojet Diaphragm Pump Provides dependable run dry capabilities, extending the life of the pump.
Quiet Operation Equipped with noise dampening rubber feet to minimize noise pollution.
Thermal Protection Prevents overheating, protecting the pump and control box from damage.
Description

Flojet Bottled Water Dispenser Pump To Be Used With 3/8" OD Tubing.

Fitted with a UK 3 pin plug, and this pump has a maximum flow of approximately 3.8 litres per minute.

Perfect for use with water bottles, or to feed a coffee machine or as part of a caravan installation when no mains water is readily available.

When a water bottle is connected to the system, fresh water is available for use with coffee/tea machines, water dispensers, refrigerators, ice makers, or any other application where potable water is needed.

The Flojet is designed for convenience - the pump shuts off when the water source is depleted, and when water is restored, the pump will automatically restart. This eliminates the chance of any damage to the appliance from dry running.

Long Life Motor Ensures years of reliable operation. Flojet Diaphragm Pump Provides dependable run dry capabilities, extending the life of the pump.

Quiet Operation Equipped with noise dampening rubber feet to minimize noise pollution.

Thermal Protection Prevents overheating, protecting the pump and control box from damage.

Delivery Rates

Delivery Service

Minimum Spend £12.50

Royal Mail Tracked - Standard

Free

Courier - Next Working Day

£4.99

Courier - Next Working Day Before Midday

£12.60

Courier - Channel Islands (2-4 Day)

£23.94

Courier - Northern Ireland (2-3 Days)

£23.94

Courier - Scotland/Highlands (2-3 Days)

£23.94