Alchemy - Turmeric 1x750ml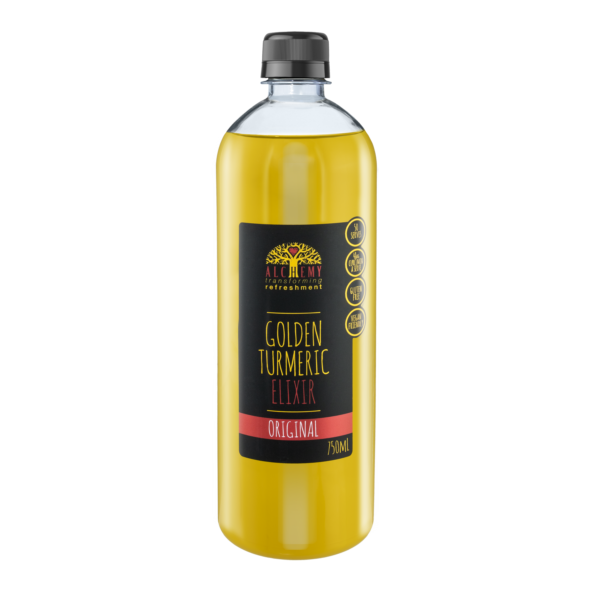 Alchemy - Turmeric 1x750ml
1x750ml
This Alchemy Golden Turmeric Elixir is an anti-inflammatory superstar!
Click here to read full description >
Description
Delivery Rates
A delicious turmeric drink which contains 48mg of curcumin, the active ingredient in turmeric. In addition to turmeric, it contains ginger, black pepper, cinnamon and organic vanilla and just enough raw sugar to ensure it is as delicious as it is good for you.
The recipe contains powerful antioxidants that are also restorative and calming, can help as a digestive aid and may provide cognitive clarity.
Suitable for vegetarians, vegans and is gluten, dairy and caffeine free.
Recipe:
Add turmeric, milk (or milk alternative) and steam.
8oz drinks- 2 pumps of Chai
12oz drinks- 3 pumps of Chai
16oz drinks- 4 pumps of Chai
*Pumps sold seperately*
Description

A delicious turmeric drink which contains 48mg of curcumin, the active ingredient in turmeric. In addition to turmeric, it contains ginger, black pepper, cinnamon and organic vanilla and just enough raw sugar to ensure it is as delicious as it is good for you.

The recipe contains powerful antioxidants that are also restorative and calming, can help as a digestive aid and may provide cognitive clarity.

Suitable for vegetarians, vegans and is gluten, dairy and caffeine free.

Recipe:

Add turmeric, milk (or milk alternative) and steam.

8oz drinks- 2 pumps of Chai

12oz drinks- 3 pumps of Chai

16oz drinks- 4 pumps of Chai

*Pumps sold seperately*

Delivery Rates

Delivery Service

Minimum Spend £12.50

Royal Mail Tracked - Standard

Free

Courier - Next Working Day

£4.99

Courier - Next Working Day Before Midday

£12.60

Courier - Channel Islands (2-4 Day)

£23.94

Courier - Northern Ireland (2-3 Days)

£23.94

Courier - Scotland/Highlands (2-3 Days)

£23.94