1883 Syrup - Terrys Chocolate Orange (P) 1L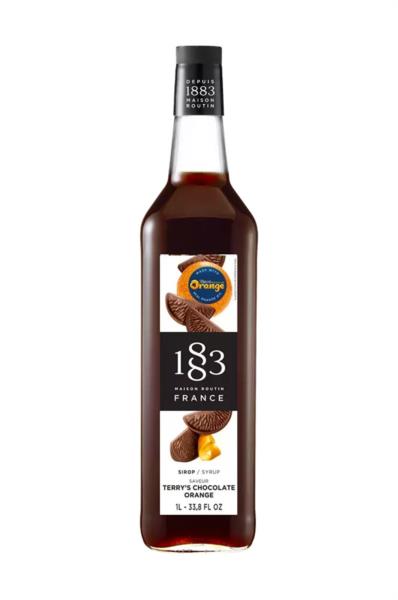 1L
Terrys Chocolate Orange - A favourite for all uses. Perfect in coffee, chocolate frappe & milkshakes.
The nations favourite Terrys Chocolate Orange and Routin 1883 have collaborated to offer a 1Ltr bottle of this syrup
Philibert Routin 1883 gourmet syrups are famous throughout the world for their quality and flavour
Approved by the Vegetarian Society and certified Kosher, these syrups are also gluten and cholesterol-free.
Average servings per litre are 125 shots when mixed with hot drinks, and 63 for cold drinks (based on an 8oz cup).
Click here to read full description >
Description
Technical Info
Delivery Rates
Add to hot chocolate or coffee for a zingy orange hit, you can also use this syrup for iced coffee, iced tea, frappes and milkshakes.
Terrys Chocolate Orange Syrup Ingredients: Cane sugar, water, aromatic caramel(suagr, water), natural orange flavouring, flavouring.
Nutritional Information:
Energy 308 kcal/1309 kJ
Fat <0.5g
Saturated Fat <0,1g
Carbohydrates 77.0g
Sugars 76,0g
Protein <0,5g
Salt <0,02g

Milk Advice: Suitable with all dairy products.
Description

Add to hot chocolate or coffee for a zingy orange hit, you can also use this syrup for iced coffee, iced tea, frappes and milkshakes.

Terrys Chocolate Orange Syrup Ingredients: Cane sugar, water, aromatic caramel(suagr, water), natural orange flavouring, flavouring.

Nutritional Information:
Energy 308 kcal/1309 kJ
Fat <0.5g
Saturated Fat <0,1g
Carbohydrates 77.0g
Sugars 76,0g
Protein <0,5g
Salt <0,02g

Milk Advice: Suitable with all dairy products.

Technical Info

Delivery Rates

Delivery Service

Minimum Spend £12.50

Royal Mail Tracked - Standard

Free

Courier - Next Working Day

£4.99

Courier - Next Working Day Before Midday

£12.60

Courier - Channel Islands (2-4 Day)

£23.94

Courier - Northern Ireland (2-3 Days)

£23.94

Courier - Scotland/Highlands (2-3 Days)

£23.94