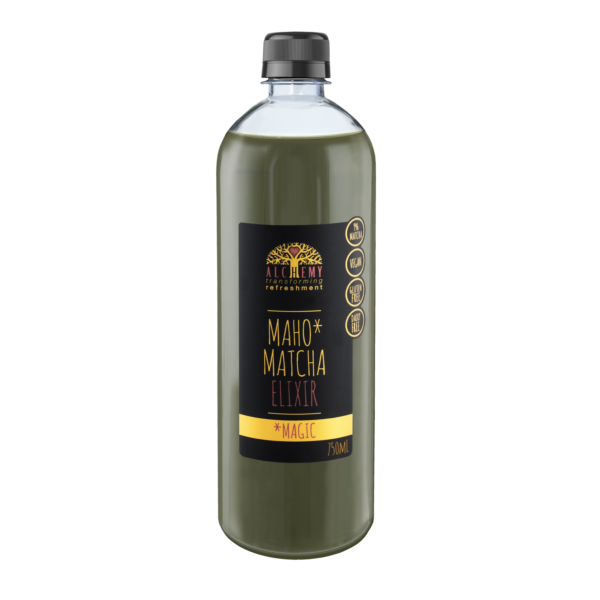 1x750ml
Matcha has been a ceremonial and therapeutic beverage in Japan for time immemorial.
Click here to read full description >
Description
Delivery Rates
Alchemy Maho Matcha Elixir is made with shade grown premium green tea form Kyoto which increases the polyphenols and theanine, and this delivers an 'Alert Calm' to the consumer which studies have shown may reduce stress. It is packed with antioxidants, which is known to assist in boosting the metabolism, detoxifying, calming the mind and relaxing the body.
A blend of premium Matcha and vanilla, ginger and cardomom, which broadens the flavour profile making the goodness of matcha more delicious and therefore even more popular. Maho Matcha is delicious served hot or cold.
Suitable for vegeterians, vegans, gluten and dairy free.
Recipe:
Add matcha, milk (or milk alternative) and steam.
8oz drinks- 2 pumps of Chai
12oz drinks- 3 pumps of Chai
16oz drinks- 4 pumps of Chai
*Pumps sold seperately*
Description

Alchemy Maho Matcha Elixir is made with shade grown premium green tea form Kyoto which increases the polyphenols and theanine, and this delivers an 'Alert Calm' to the consumer which studies have shown may reduce stress. It is packed with antioxidants, which is known to assist in boosting the metabolism, detoxifying, calming the mind and relaxing the body.

A blend of premium Matcha and vanilla, ginger and cardomom, which broadens the flavour profile making the goodness of matcha more delicious and therefore even more popular. Maho Matcha is delicious served hot or cold.

Suitable for vegeterians, vegans, gluten and dairy free.

Recipe:

Add matcha, milk (or milk alternative) and steam.

8oz drinks- 2 pumps of Chai

12oz drinks- 3 pumps of Chai

16oz drinks- 4 pumps of Chai

*Pumps sold seperately*

Delivery Rates

Delivery Service

Minimum Spend £12.50

Royal Mail Tracked - Standard

Free

Courier - Next Working Day

£4.99

Courier - Next Working Day Before Midday

£12.60

Courier - Channel Islands (2-4 Day)

£23.94

Courier - Northern Ireland (2-3 Days)

£23.94

Courier - Scotland/Highlands (2-3 Days)

£23.94