Simply Cooler Syrup - Dragon Fruit & Mango 1L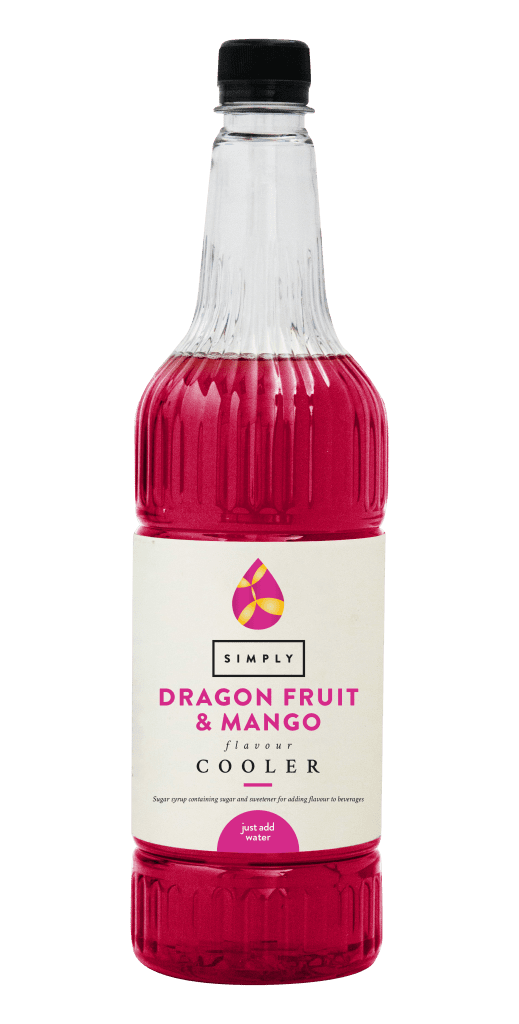 Simply Cooler Syrup - Dragon Fruit & Mango 1L
1 x 1L
Add a punch of sweet flavour and vibrant colour with Simply Dragon Fruit and Mango Cooler.
Vegan Approved
Halal Certified
Quick Serve Beverage
Click here to read full description >
Description
Delivery Rates
This is the best choice for making an eye-catching drink that also tastes amazing.
The refreshing and vibrant Simply Coolers are easy to use and make the perfect warmer weather refreshment! Perfect throughout Spring and Summer, all you need to do with these coolers is add cold water and ice for a delicious, quick serve beverage.
Add approximately 30ml to a glass/cup of 270ml water with ice and stir before consumption.
Storage instructions: Store in dry, cool ambient conditions, away from heat sources and odorous materials.
*Pumps sold seperately*
Description

This is the best choice for making an eye-catching drink that also tastes amazing.

The refreshing and vibrant Simply Coolers are easy to use and make the perfect warmer weather refreshment! Perfect throughout Spring and Summer, all you need to do with these coolers is add cold water and ice for a delicious, quick serve beverage.

Add approximately 30ml to a glass/cup of 270ml water with ice and stir before consumption.

Storage instructions: Store in dry, cool ambient conditions, away from heat sources and odorous materials.

*Pumps sold seperately*

Delivery Rates

Delivery Service

Minimum Spend £12.50

Royal Mail Tracked - Standard

Free

Courier - Next Working Day

£4.99

Courier - Next Working Day Before Midday

£12.60

Courier - Channel Islands (2-4 Day)

£23.94

Courier - Northern Ireland (2-3 Days)

£23.94

Courier - Scotland/Highlands (2-3 Days)

£23.94