Conti MC Ultima - 3 group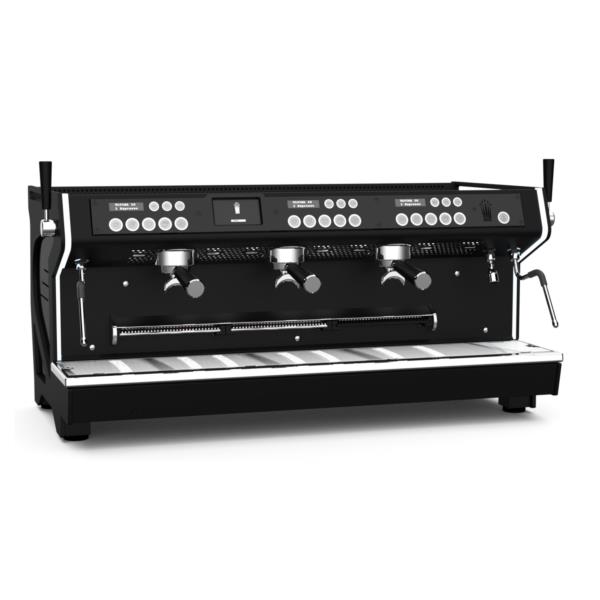 A flagship model, with a sharpened more efficient design
With enhanced ergonomics, more intuitive software and endless custom options, every element of this machine is tuned to perfection.
'Infinite Actuate' steam Lever
Customisable Standby Mode
Upload pictures and logos to the machine displaying these custom images
42% Larger Cup Warmer
Redefined internal layout
More efficient, saving downtime
Click here to read full description >
Description
Technical Info
Downloads (1)
Smaller Footprint – Sharper Lines – Cleaner Materials
Modern-day coffee bars are sleek, efficient and deliberately sparse in their design.
With space at such a premium, it made perfect sense to take every dimension of the original Monte Carlo and shave precious millimetres, to make the machine lower and leaner in every way.
We have managed to achieve an overall reduction in the size of nearly 30% without any reduction in performance or capability. As a result of the cleaner look, we fully encapsulated the machine in sustainable, recyclable metals.
Full Colour User-Friendly Control Panel & Recipe Book
The Monte Carlo has always been the baristas most useful tool but now with the intuitive TFT touch display, making small adjustments has become even easier.
With a full-colour screen, and recognisable icons, setting up and tweaking the machines programmable features has become as easy as using a smartphone or tablet.
Our latest addition to the software is a multi-page 'recipe book'. Allowing you to log your favourite coffees and brew ratios – and making them quickly accessible during service without the need for post-it notes!
Height (mm)

490

Width (mm)

1092

Depth (mm)

574

Weight (kg)

105

Steam Boiler Size (Litres)

14

Coffee Boiler Size (Litres)

0.9 x 3

Group Element (W)

100

Steam Boiler Element (W)

6000

Coffee Boiler Element (W)

1000/2500

Total Power (W)

2600-9600/3000-1

Voltage (V)

400
Description

Smaller Footprint – Sharper Lines – Cleaner Materials

Modern-day coffee bars are sleek, efficient and deliberately sparse in their design.

With space at such a premium, it made perfect sense to take every dimension of the original Monte Carlo and shave precious millimetres, to make the machine lower and leaner in every way.

We have managed to achieve an overall reduction in the size of nearly 30% without any reduction in performance or capability. As a result of the cleaner look, we fully encapsulated the machine in sustainable, recyclable metals.

Full Colour User-Friendly Control Panel & Recipe Book

The Monte Carlo has always been the baristas most useful tool but now with the intuitive TFT touch display, making small adjustments has become even easier.

With a full-colour screen, and recognisable icons, setting up and tweaking the machines programmable features has become as easy as using a smartphone or tablet.

Our latest addition to the software is a multi-page 'recipe book'. Allowing you to log your favourite coffees and brew ratios – and making them quickly accessible during service without the need for post-it notes!

Technical Info

Height (mm)

490

Width (mm)

1092

Depth (mm)

574

Weight (kg)

105

Steam Boiler Size (Litres)

14

Coffee Boiler Size (Litres)

0.9 x 3

Group Element (W)

100

Steam Boiler Element (W)

6000

Coffee Boiler Element (W)

1000/2500

Total Power (W)

2600-9600/3000-1

Voltage (V)

400

Downloads (1)