Franke A300 Coffee Machine With Milk Fridge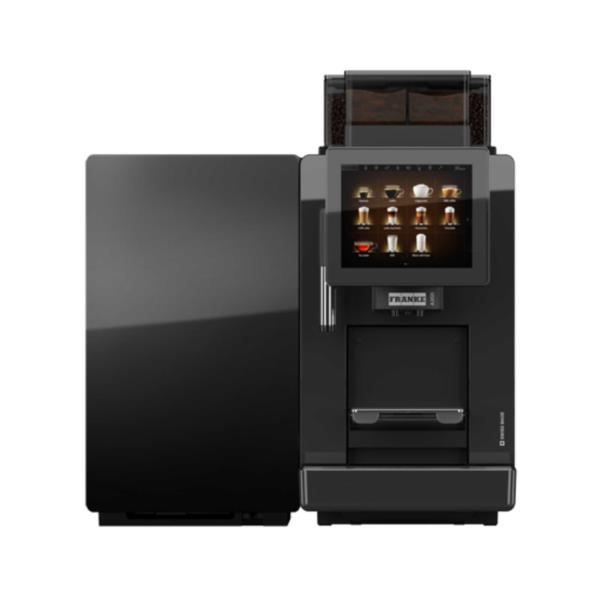 With its intuitive, easy-to-use screen and consistent in-cup quality
The A300 provides a premium coffee experience in the most compact format.
EasyClean (EC): automatic cleaning system with manual addition of the cleaning fluid. Perfect hygiene in just a few steps.
Milk system (MS): hot milk and milk foam, exact dosing via milk pump
Interactive 8" touch screen guides the user intuitively and efficiently through drink selection
Precision grinder with durable ceramic grinding disks
Patented heating cartridge system to set different temperature levels per beverage (coffee, tea or powder)
Integrated, fully automatic descaling system guarantees best in-cup quality
Pricing based on tanked unit - plumbing kit is additional
Click here to read full description >
Description
Technical Info
Franke Coffee Machine A300 with Milk Fridge
Small in size, big coffee taste The Franke A300 is packed with features and technology that ensure a premium coffee experience.
Thanks to its patented, Franke heating system and wide range of temperature settings, the A300 makes it easy to prepare espresso and many other beverages to barista standard.
With its intuitive, easy-to-use screen and consistent in-cup quality, our A300 provides a premium coffee experience in the most compact format.
So, whether you're serving customers in a bakery, a small restaurant or employees in an office, this model has you covered.
And if that wasn't enough, you can always rely on the A300 to produce an excellent cup of coffee no matter if it's being operated by your staff or an employee using the self-service option.
Power

220–240V 1LNPE 50/60Hz 2.1–2.3kW (10A)

Dimensions with water connection without powder dosing system

270mm/465mm/587mm (W/H/D)

Weight

(empty) approx. 25 kg

Machine Type

Bean to cup

Cups Per Day

100

Milk Type

Fresh Milk

Fridge Option

4 Litre

For Use With

Beans & Instant Ingredients

Hopper Size

600g

Water

Direct plumbed
Description

Franke Coffee Machine A300 with Milk Fridge

Small in size, big coffee taste The Franke A300 is packed with features and technology that ensure a premium coffee experience.

Thanks to its patented, Franke heating system and wide range of temperature settings, the A300 makes it easy to prepare espresso and many other beverages to barista standard.

With its intuitive, easy-to-use screen and consistent in-cup quality, our A300 provides a premium coffee experience in the most compact format.

So, whether you're serving customers in a bakery, a small restaurant or employees in an office, this model has you covered.

And if that wasn't enough, you can always rely on the A300 to produce an excellent cup of coffee no matter if it's being operated by your staff or an employee using the self-service option.

Technical Info

Power

220–240V 1LNPE 50/60Hz 2.1–2.3kW (10A)

Dimensions with water connection without powder dosing system

270mm/465mm/587mm (W/H/D)

Weight

(empty) approx. 25 kg

Machine Type

Bean to cup

Cups Per Day

100

Milk Type

Fresh Milk

Fridge Option

4 Litre

For Use With

Beans & Instant Ingredients

Hopper Size

600g

Water

Direct plumbed