The Best Coffee Machine Brands
Finding the perfect coffee or espresso machine can be a daunting task for newcomers, enthusiasts and connoisseurs of coffee alike – even more so if you are planning on opening a coffee shop. The drink is so popular around the world that there are countless different espresso machine brands and models to choose from, so it can be hard to know where to start.
So, the expert baristas at Coffee Masters are looking at some of their favourite coffee machine brands to help you find the best machine for your needs. Creating the perfect cup of coffee is an art form in itself, and as with any artist, the best results are only achieved when the right tools and equipment are used. With that, we present four of our favourite brands that have helped us craft quality coffee time and time again.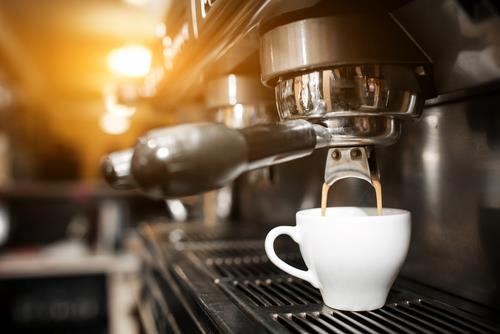 Conti Espresso Machines
Conti has been producing attractive, hand-crafted espresso machines from their main facility in Monaco since 1956. The selection of machines we currently supply from Conti range from compact espresso machines to larger machines that are ideal for busier coffee houses, as exemplified by the retro-styled Conti CC100 range.
Popular with start-ups and well-established coffee houses alike, the classically styled Conti CC100 machines are available with white, black or dark red accents, and all include an informational display for the user. You can also take advantage of a timesaving auto-cleaning feature and a handy eco mode that can reduce power consumption by up to 40% during quiet periods or when your establishment is closed.
We stock the full Conti CC100 range, which includes the compact Conti CC101TC and Conti CC102C for smaller establishments or where space is an issue and expands to the Conti CC102TC and Conti CC103TC for larger coffee houses. With between one and three group heads available with these machines and the ability to handle tall cups for takeaway drinks, the Conti CC100 range provides a striking, versatile and quality all-rounder machine that consistently outperforms similar-sized machines when it comes to quality espresso extraction.
See our full Conti espresso machine range here.
La Spaziale Espresso Machines
Now here are some very special espresso machines. Established in Bologna, Italy, in 1969, La Spaziale made its name as an expert espresso machine crafter with its revolutionary heat exchange system. This patented technology ensures temperature consistency in the group head and, thus, every blend can be fine-tuned for the very best taste.
La Spaziale espresso machines excel in both performance and aesthetics, bringing a high-end professional machine to your coffee house at exceptional value for money. La Spaziale has built a reputation all over the world for producing innovative, aesthetically pleasing and reliable machines that allow the barista a high degree of precision when crafting each espresso shot.
For a high-tech machine with intricate precision controls, we recommend the La Speziale S5 EK range, which we stock in both a 2-group and 3-group configuration, with 1-group and 4-group machines available in the range too if needed. La Speziale S5 EK machines feature lever-operated hot water and steam valves, double steam wands on all but the 1 group variation and LED displays showing boiler temperature. Individual temperature control for each group head is also available as an optional extra. For a stylish, feature-rich espresso machine, La Speziale espresso machines are hard to beat, especially in their price range.

See our full La Speziale espresso machine range here.
Franke Bean-to-Cup Coffee Machines
At Coffee Masters, we understand that espresso machines can seem a little daunting to coffee-crafting newcomers, indeed it's one of the reasons we offer barista training courses. Sometimes, an espresso machine just isn't the right fit for your operation, such as in a bakery, cake shop, small restaurant or if you want people to be able to self-serve. But good coffee can still be had with innovative bean-to-cup coffee machines that create great-tasting coffee with a single button push.
Headquartered in Switzerland, Franke has been pioneering in its field since 1911 and today produces an innovative and easy-to-use range of bean-to-cup coffee machines, serving a range of barista standard beverages to coffee lovers all over the world.
Franke bean-to-cup coffee machines are highly modular, allowing you to create the ideal solution for your situation. Popular models include the Franke A300 coffee machine with its compact design and wide drink selection, the Franke A600 coffee machine that's ideal for busier locations such as hotels and can be set up to take payments, and the Franke A800 coffee machine that's a real workhorse with its three-boiler system, and can prepare multiple luxury beverages simultaneously. With modular additions such as extra bean grinders, flavour stations and side fridges, Franke A series bean-to-cup machines are at the cutting edge of one-touch barista-grade coffee technology.
See our full Franke bean-to-cup coffee machine range here.
Sage Espresso Machines
We thought we'd finish with the ideal at-home espresso machines for those wanting to learn the skills of a barista or are just looking to create and enjoy the very best coffee in their kitchen. Sage is a highly respected and well-known brand when it comes to espresso machines for the home, and few are more popular or user-friendly than the Sage Barista Pro, which we have available in both stainless steel and black truffle finishes.
With its stylish design, compact form factor and built-in coffee grinder and water tank, the Sage Barista Pro espresso machine is the ideal solution for any home kitchen. With 30 precision grind settings and an easy-to-use LCD interface, the perfect espresso shot is achievable in next to no time. The machine features a 54mm portafilter and removable magnetic tamper, not to mention a steam wand and both 1-cup and 2-cup filters. You can even store your preferred settings in the machine for a balanced, rich taste, every time.
See our full Sage espresso machine range here.
The Perfect Coffee, Wherever You Are
At Coffee Masters, we can supply the ideal machine for every situation, business and person, whatever your level of expertise. With over 30 years of experience in the food service sector, we have a natural passion for coffee and are here to help you serve the perfect brew every time.
To talk to the experts, ask any questions or seek further advice on the best machine for you, call us on 01905 571007, email enquiry@coffeemasters.co.uk or use our online contact form to get in touch.