Alchemy - Mumbai Chai 1x750ml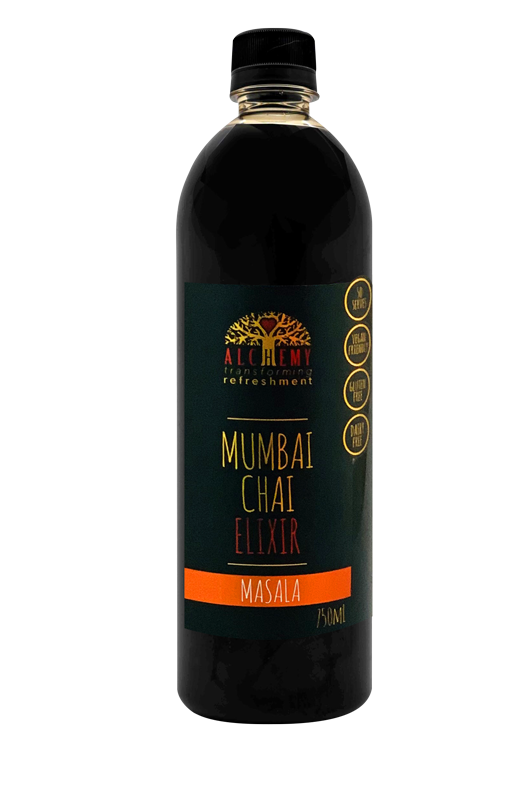 Alchemy - Mumbai Chai 1x750ml
1x750ml
Chai is the national drink of India.
Click here to read full description >
Description
Delivery Rates
Mumbai Chai is made from organic black tea with ginger, cinnamon, pepper, cloves, nutmeg and cardamom which makes it a powerful drink that can be enjoyed hot or cold. It is crafted to deliver the true taste of Indian street Chai.
Suitable for vegeterians, vegans and gluten free.
Recipe:
Add Chai, milk (or milk alternative) and steam.
8oz drinks- 2 pumps of Chai
12oz drinks- 3 pumps of Chai
16oz drinks- 4 pumps of Chai
*Pumps sold seperately*
Description

Mumbai Chai is made from organic black tea with ginger, cinnamon, pepper, cloves, nutmeg and cardamom which makes it a powerful drink that can be enjoyed hot or cold. It is crafted to deliver the true taste of Indian street Chai.

Suitable for vegeterians, vegans and gluten free.

Recipe:

Add Chai, milk (or milk alternative) and steam.

8oz drinks- 2 pumps of Chai

12oz drinks- 3 pumps of Chai

16oz drinks- 4 pumps of Chai

*Pumps sold seperately*

Delivery Rates

Delivery Service

Minimum Spend £12.50

Royal Mail Tracked - Standard

Free

Courier - Next Working Day

£4.99

Courier - Next Working Day Before Midday

£12.60

Courier - Channel Islands (2-4 Day)

£23.94

Courier - Northern Ireland (2-3 Days)

£23.94

Courier - Scotland/Highlands (2-3 Days)

£23.94