Thick & Creamy Luxury Frappe Base (10x1kg)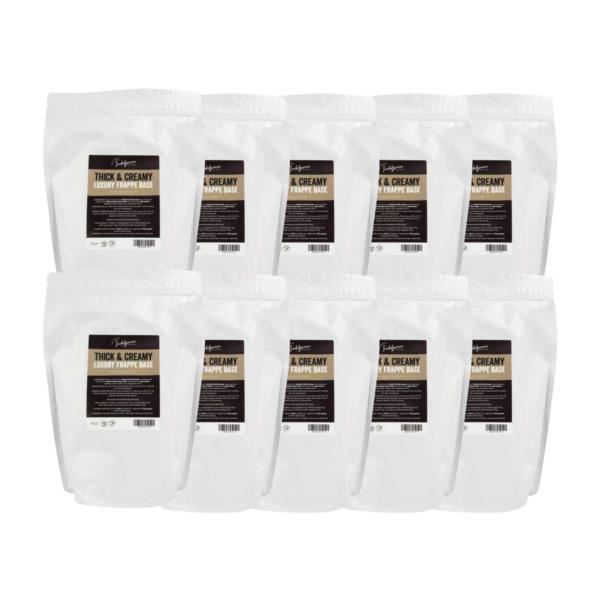 Description
Delivery Rates
Thick & Creamy Luxury Frappe Base 10x1kg
Thick & Creamy Luxury Frappe Base is a versatile unflavoured thickener designed to work as a base for creating any flavoured frappe you wish. Simply add an espresso and/or a shot of flavoured syrup.
This enables you to make any flavoured frappe you can think of and offer your customers something they will remember. Also helps you stand out from the competition by allowing you to list a huge range of frappe flavours on your drinks menu.
To make the perfect frappe, add 300ml of ice to your blender together with a 40g scoop of Thick & Creamy Luxury Frappe Base and 40ml of cold milk. To flavour just add either a shot (or 2) of espresso or a few shots of your chosen flavouring syrup and blend for 30 seconds. Simple to make and a great profit earner.
We can also provide our customers with a list of exciting frappe and thick shake recipes with full instructions and costings - contact us for more info.
Features:
Unflavoured frappe mix
10x1kg bag
25 portions per 1kg bag
Allows you to make frappes of any flavour you wish
Description

Thick & Creamy Luxury Frappe Base 10x1kg

Thick & Creamy Luxury Frappe Base is a versatile unflavoured thickener designed to work as a base for creating any flavoured frappe you wish. Simply add an espresso and/or a shot of flavoured syrup.

This enables you to make any flavoured frappe you can think of and offer your customers something they will remember. Also helps you stand out from the competition by allowing you to list a huge range of frappe flavours on your drinks menu.

To make the perfect frappe, add 300ml of ice to your blender together with a 40g scoop of Thick & Creamy Luxury Frappe Base and 40ml of cold milk. To flavour just add either a shot (or 2) of espresso or a few shots of your chosen flavouring syrup and blend for 30 seconds. Simple to make and a great profit earner.

We can also provide our customers with a list of exciting frappe and thick shake recipes with full instructions and costings - contact us for more info.

Features:

Unflavoured frappe mix

10x1kg bag

25 portions per 1kg bag

Allows you to make frappes of any flavour you wish

Delivery Rates

Delivery Service

Minimum Spend £10

Royal Mail Tracked - Standard

Free

Royal Mail Tracked - Next Working Day

£2.34

Courier - Next Working Day

£5.40

Courier - Next Working Day Before Midday

£12.60

Courier - Channel Islands (2-4 Day)

£23.94

Courier - Northern Ireland (2-3 Days)

£23.94

Courier - Scotland/Highlands (2-3 Days)

£23.94