La Spaziale - S40 Suprema 2 Group - Take Away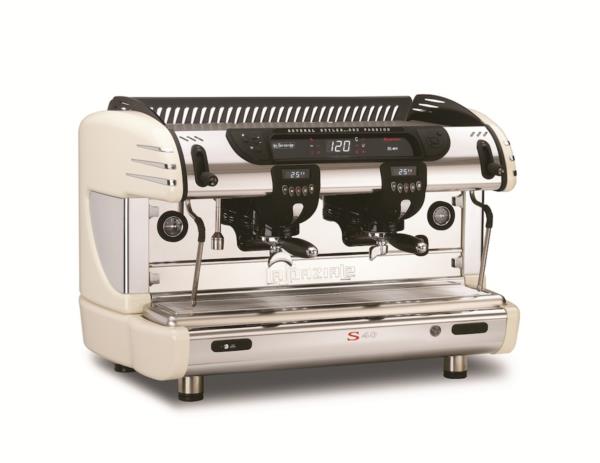 Traditional Espresso Coffee Machine
A reliable traditional espresso coffee machine is available with a semi or automatic dose setting.
Electronic coffee machine with free-flow delivery
Electronic boiler refill
Electric heating system
Double pressure gauge for boiler and pump pressure control
Preset hot water delivery for infusions
Boiler temperature indicated by LED display
Automatic operating temperature boost function
Built-in volumetric pump
Electric cup warmer
Click here to read full description >
Description
Technical Info
La Spaziale S40 2 Group Traditional Espresso Coffee Machine is the ultimate, top of the range espresso solution. The technicians set themselves goals. Combining functionality with high-class aesthetics and elegance, the S40 is a technologically superior machine whose components interact with extreme precision, guided by the state of the art electronics.
The S40 is fully automatic with 4 programmable dose controls per Group with a manual free flow override function, which is available on most high-quality commercial coffee machines. Most choices these days are automatic. However, there is the semi-automatic Elettrik free flow version if required. As well as standard height, the is available in Takeaway Height (T.A.). Machines come in 2 – 4 Groups with 10, 15 and 20 Litre Boilers respectively.
Many of the various optional build extras are standard on the S40 range. The only one not included as standard is the addition of a third fully automatic foaming Steam Arm with adjustable temperature control cut off. It also comes in a multitude of colours.
La Spaziale S40 2 Group Traditional Espresso Coffee Machine is a high-end commercial coffee machine capable of delivering vast amounts of coffee in a very short period of time, so it is ideal for coffee shops, cafes and restaurants looking to serve customers their coffee fast.
Thanks to La Spaziale's STEAM heat exchange system, the S40 retains temperature no matter how hard it is pushed.
Dimensions (mm) LxPxH

845x680x560

Weight (kg)

85

Boiler capacity (litres)

10

Power supply and power absorption

Volt 220/240/400

Hz

50/60

W

320
Description

La Spaziale S40 2 Group Traditional Espresso Coffee Machine is the ultimate, top of the range espresso solution. The technicians set themselves goals. Combining functionality with high-class aesthetics and elegance, the S40 is a technologically superior machine whose components interact with extreme precision, guided by the state of the art electronics.

The S40 is fully automatic with 4 programmable dose controls per Group with a manual free flow override function, which is available on most high-quality commercial coffee machines. Most choices these days are automatic. However, there is the semi-automatic Elettrik free flow version if required. As well as standard height, the is available in Takeaway Height (T.A.). Machines come in 2 – 4 Groups with 10, 15 and 20 Litre Boilers respectively.

Many of the various optional build extras are standard on the S40 range. The only one not included as standard is the addition of a third fully automatic foaming Steam Arm with adjustable temperature control cut off. It also comes in a multitude of colours.

La Spaziale S40 2 Group Traditional Espresso Coffee Machine is a high-end commercial coffee machine capable of delivering vast amounts of coffee in a very short period of time, so it is ideal for coffee shops, cafes and restaurants looking to serve customers their coffee fast.

Thanks to La Spaziale's STEAM heat exchange system, the S40 retains temperature no matter how hard it is pushed.

Technical Info

Dimensions (mm) LxPxH

845x680x560

Weight (kg)

85

Boiler capacity (litres)

10

Power supply and power absorption

Volt 220/240/400

Hz

50/60

W

320