Zuma Hot Chocolate - Organic Fairtrade (40% Cocoa) (1x2kg)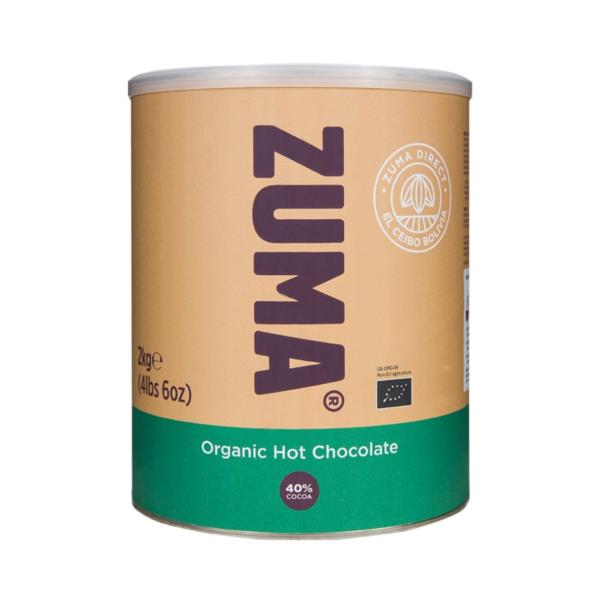 1 x 2kg
Organic, natural hot chocolate
Just organic cocoa and sugar, nothing else
No artificial colours, flavours or preservatives
Approved by The Vegan Society
Click here to read full description >
This item is currently out of stock.
Description
Delivery Rates
Zuma Organic is a rich blend made with 40% cocoa. The cocoa is sourced from the El Ceibo co-operative in Bolivia, and is naturally processed which means it is non-alkalized – this gives it a complex, malty flavour and a reddish colour.
The El Ceibo co-operative grow the cocoa locally and process it on-site, and they are committed to protecting the local rainforest, becoming the first certified organic cocoa co-operative in the world in 1988.
All the cocoa is grown without the use of chemical pesticides or fertilisers, and EL Ceibo farmers share their knowledge from farmer to farmer to increase productivity and improve quality.
Just organic cocoa and sugar, nothing else No artificial colours, flavours or preservatives
Approved by The Vegan Society
Description

Zuma Organic is a rich blend made with 40% cocoa. The cocoa is sourced from the El Ceibo co-operative in Bolivia, and is naturally processed which means it is non-alkalized – this gives it a complex, malty flavour and a reddish colour.

The El Ceibo co-operative grow the cocoa locally and process it on-site, and they are committed to protecting the local rainforest, becoming the first certified organic cocoa co-operative in the world in 1988.

All the cocoa is grown without the use of chemical pesticides or fertilisers, and EL Ceibo farmers share their knowledge from farmer to farmer to increase productivity and improve quality.

Just organic cocoa and sugar, nothing else No artificial colours, flavours or preservatives

Approved by The Vegan Society

Delivery Rates

Delivery Service

Minimum Spend £10

Royal Mail Tracked - Standard

Free

Royal Mail Tracked - Next Working Day

£2.34

Courier - Next Working Day

£5.40

Courier - Next Working Day Before Midday

£12.60

Courier - Channel Islands (2-4 Day)

£23.94

Courier - Northern Ireland (2-3 Days)

£23.94

Courier - Scotland/Highlands (2-3 Days)

£23.94