Sweetbird Frappe - Non Dairy Caffe (1x2kg)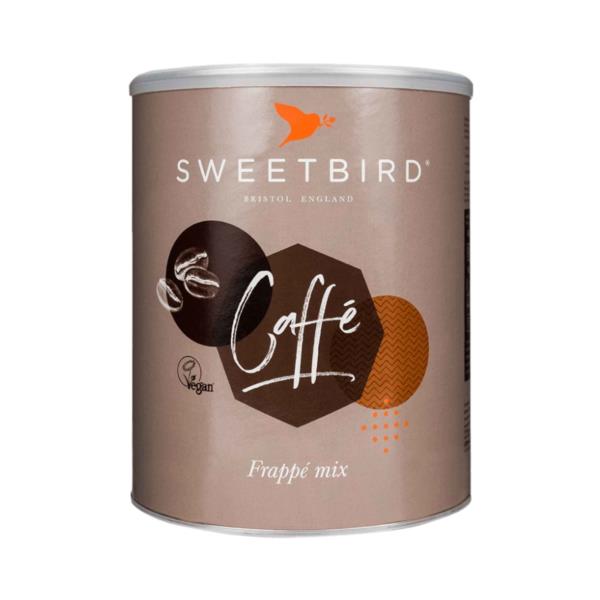 1 x 2kg
Made with rich Brazilian coffee and a touch of West African cocoa
• Free from artificial colours and flavourings
• Preservative free
• Free from hydrogenated fat
• Free from GMOs
• Approved by The Vegan Society
Click here to read full description >
This item is currently out of stock.
Description
Delivery Rates
Made with rich Brazilian coffee and a touch of West African cocoa for added flavour and depth, the Sweetbird Caffe Frappé blend is dairy-free and approved by The Vegan Society.
Simply blend with ice and any milk alternative to create a silky-smooth vegan-friendly frappé.
• Free from artificial colours and flavourings
• Preservative free
• Free from hydrogenated fat
• Free from GMOs
• Approved by The Vegan Society
Description

Made with rich Brazilian coffee and a touch of West African cocoa for added flavour and depth, the Sweetbird Caffe Frappé blend is dairy-free and approved by The Vegan Society.

Simply blend with ice and any milk alternative to create a silky-smooth vegan-friendly frappé.

• Free from artificial colours and flavourings

• Preservative free

• Free from hydrogenated fat

• Free from GMOs

• Approved by The Vegan Society

Delivery Rates

Delivery Service

Minimum Spend £10

Royal Mail Tracked - Standard

Free

Royal Mail Tracked - Next Working Day

£2.34

Courier - Next Working Day

£5.40

Courier - Next Working Day Before Midday

£12.60

Courier - Channel Islands (2-4 Day)

£23.94

Courier - Northern Ireland (2-3 Days)

£23.94

Courier - Scotland/Highlands (2-3 Days)

£23.94