Sage Descaler (Pack of 4)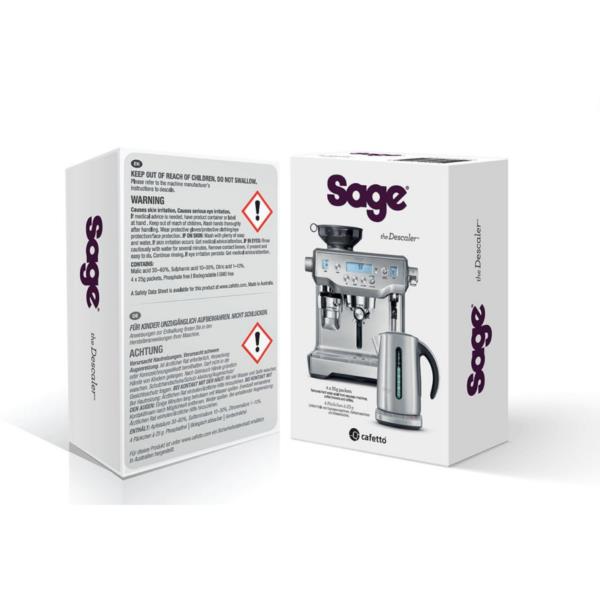 Descaler from Sage to keep your coffee and espresso machine safe from limescale.
Removes limescale from espresso machines, coffee brewers and kettles. Longer lifespan of your coffee and espresso machine. Less energy used to warm up the water.
Click here to read full description >
This item is currently out of stock.
Description

Additional Information

Delivery Rates
When you use water in your coffee and espresso machine, you are probably familiar with limescale.
When water is used to make coffee, dissolved minerals like calcium and magnesium are left behind in the machine.
These minerals are the main source of limescale buildup. Limescale decreases the lifespan of your machine if do not descale regularly, your coffee and espresso machine will also use more energy to warm up the water since the limescale will block the conduits of your machine.
The use of a Descaler is much needed if you want a coffee and espresso machine that will be in optimal condition.
The Sage Descaler will get rid of all the build-up limescale in your costly machine.
the Oracle™ Touch (SES990)
the Oracle™ (SES980 - Batch 1750 & up)
the Bambino® Plus (BES500)
the Barista Pro™ (SES878)
the Barista Express™ (BES875 SES875 - Batch 1735 & up)
the Barista Touch™ (SES880)
the Dual Boiler™ (BES920 - Batch 1749 & up)
the Duo-Temp™ Pro (BES810 - Batch 1738 & up) and Sage kettles
Instructions for espresso machine
1. When a water filter is placed in the water tank of your espresso machine, remove it.
2. Empty one of the sachets into 1 litre of warm water. Let the descaler dissolve, and then pour into the water tank.
3. Refer to the machine manufacturer's instructions to descale.
4. Always rinse thoroughly with fresh water after use.
5. Re-place the water filter.

Instructions for coffee brewer
1. Empty one sachet into 1 litre of water, stir to dissolve.
2. Pour into empty water tank of brewer.
3. Turn the machine on and run as if brewing a pot of coffee till all solution is in coffee pot.
4. Leave stand for 5 minutes.
5. After 5 minutes, discard the solution that is in the coffee pot and rinse with fresh water.
6. Rinse the machine by adding 1 litre of fresh water to the water tank and run as if brewing a pot of coffee.
7. Discard the rinse water from the coffee pot.
Description

When you use water in your coffee and espresso machine, you are probably familiar with limescale.

When water is used to make coffee, dissolved minerals like calcium and magnesium are left behind in the machine.

These minerals are the main source of limescale buildup. Limescale decreases the lifespan of your machine if do not descale regularly, your coffee and espresso machine will also use more energy to warm up the water since the limescale will block the conduits of your machine.

The use of a Descaler is much needed if you want a coffee and espresso machine that will be in optimal condition.

The Sage Descaler will get rid of all the build-up limescale in your costly machine.

the Oracle™ Touch (SES990)
the Oracle™ (SES980 - Batch 1750 & up)
the Bambino® Plus (BES500)
the Barista Pro™ (SES878)
the Barista Express™ (BES875 SES875 - Batch 1735 & up)
the Barista Touch™ (SES880)
the Dual Boiler™ (BES920 - Batch 1749 & up)
the Duo-Temp™ Pro (BES810 - Batch 1738 & up) and Sage kettles

Additional Information

Instructions for espresso machine
1. When a water filter is placed in the water tank of your espresso machine, remove it.
2. Empty one of the sachets into 1 litre of warm water. Let the descaler dissolve, and then pour into the water tank.
3. Refer to the machine manufacturer's instructions to descale.
4. Always rinse thoroughly with fresh water after use.
5. Re-place the water filter.

Instructions for coffee brewer
1. Empty one sachet into 1 litre of water, stir to dissolve.
2. Pour into empty water tank of brewer.
3. Turn the machine on and run as if brewing a pot of coffee till all solution is in coffee pot.
4. Leave stand for 5 minutes.
5. After 5 minutes, discard the solution that is in the coffee pot and rinse with fresh water.
6. Rinse the machine by adding 1 litre of fresh water to the water tank and run as if brewing a pot of coffee.
7. Discard the rinse water from the coffee pot.

Delivery Rates

Delivery Service

Minimum Spend £12.50

Royal Mail Tracked - Standard

Free

Courier - Next Working Day

£4.99

Courier - Next Working Day Before Midday

£12.60

Courier - Channel Islands (2-4 Day)

£23.94

Courier - Northern Ireland (2-3 Days)

£23.94

Courier - Scotland/Highlands (2-3 Days)

£23.94