Premium Glass Mug 11oz (1x6)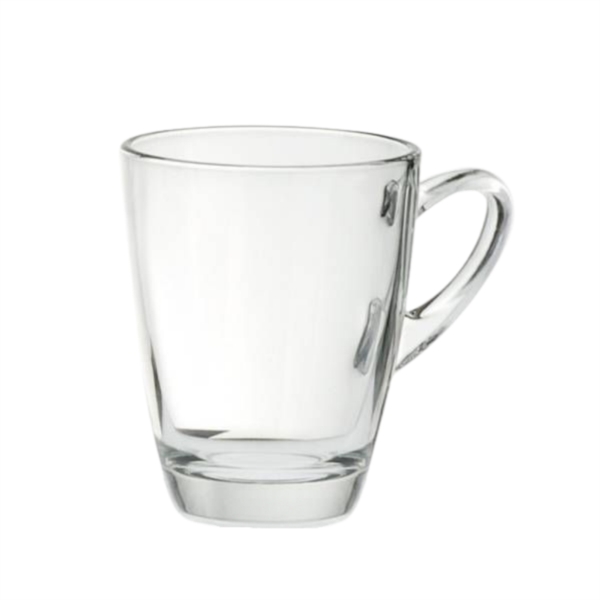 Pack of 6
Featuring an alluring, curved handle and elegant shaping.
Premium Glass Coffee Mug
Alluring shaping
Handled coffee glass
High-quality soda-lime glass material
Brilliant clarity and shine
Dishwasher safe
Click here to read full description >
This item is currently out of stock.
Description
Technical Info
Delivery Rates
6 x Premium Glass Mug 11oz
Our Premium Glass Coffee Mugs offer a stylish, contemporary alternative to porcelain or china products.
Featuring alluring, curved handles and elegant shaping, Premium Glass Coffee Mugs look superb.
The simple, classy silhouettes suit both contemporary and traditional establishments.
Premium Coffee Mugs are made from high-quality soda-lime glass that provides brilliant clarity and shine for superb presentation.
Alongside their handsome aesthetics, these mugs are dishwasher safe, strong and durable to meet the demands of commercial use.
Description

6 x Premium Glass Mug 11oz

Our Premium Glass Coffee Mugs offer a stylish, contemporary alternative to porcelain or china products.

Featuring alluring, curved handles and elegant shaping, Premium Glass Coffee Mugs look superb.

The simple, classy silhouettes suit both contemporary and traditional establishments.

Premium Coffee Mugs are made from high-quality soda-lime glass that provides brilliant clarity and shine for superb presentation.

Alongside their handsome aesthetics, these mugs are dishwasher safe, strong and durable to meet the demands of commercial use.

Technical Info

Delivery Rates

Delivery Service

Minimum Spend £10

Royal Mail Tracked - Standard

Free

Courier - Next Working Day

£2.99

Courier - Next Working Day Before Midday

£12.60

Courier - Channel Islands (2-4 Day)

£23.94

Courier - Northern Ireland (2-3 Days)

£23.94

Courier - Scotland/Highlands (2-3 Days)

£23.94