La Spaziale S50 3.0 - 3 Group - Takeaway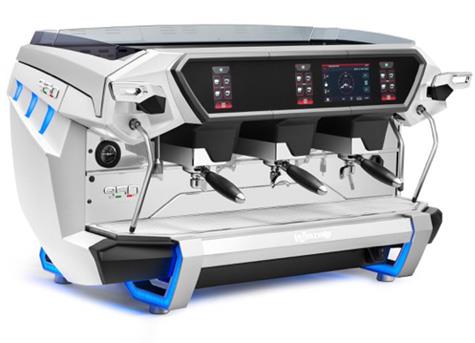 Electronic with automatic dose setting
The La Spaziale S50 3.0 is an electronic commercial espresso machine with independent boilers, a distinctive design, and innovative features.
Capacitive graphic displays TFT central 7" and delivery groups 4.3"
"Cool touch" steam wands
RGB led inserts with color variations
ECO functionality and monitoring of energy consumption (Kw/H)
Pressure gauge for pump pressure
Click here to read full description >
Description

Additional Information
The La Spaziale S50 is the celebration of 50 years of La Spaziale and it is something special.
A large LCD display gives you fantastic control over your coffee. The ITC 3.0 gives you the option to preset the brewing temperature for six different doses, this gives you the freedom to explore the best extraction for your coffee.
La Spaziale have introduced pressure profiling with the S50.
The group heads have LCD displays to give you the information you need as a barista
Preset/mixed hot water delivery for infusions (with adjustable temperature) (ATM)
ECO functionality and monitoring of energy consumption (Kw/H)
Worktop with adjustable luminous intensity (0-100%)
Bluetooth connection and USB port
EGS functionality (can be activated)
On/off timer
Coffee counter
Coffee extraction time monitoring (can be activated)
Electronic temperature regulation for the cup warmer tray
Electronic sensor for boiler pressure with display visualization
Management service with scheduled technical interventions and water treatment system control (GA)
Semiautomatic group and boiler cleaning cycle (Reminder function)
"Purge" function for coffee delivery groups
Description

The La Spaziale S50 is the celebration of 50 years of La Spaziale and it is something special.

A large LCD display gives you fantastic control over your coffee. The ITC 3.0 gives you the option to preset the brewing temperature for six different doses, this gives you the freedom to explore the best extraction for your coffee.

La Spaziale have introduced pressure profiling with the S50.

The group heads have LCD displays to give you the information you need as a barista

Additional Information

Preset/mixed hot water delivery for infusions (with adjustable temperature) (ATM)

ECO functionality and monitoring of energy consumption (Kw/H)

Worktop with adjustable luminous intensity (0-100%)

Bluetooth connection and USB port

EGS functionality (can be activated)

On/off timer

Coffee counter

Coffee extraction time monitoring (can be activated)

Electronic temperature regulation for the cup warmer tray

Electronic sensor for boiler pressure with display visualization

Management service with scheduled technical interventions and water treatment system control (GA)

Semiautomatic group and boiler cleaning cycle (Reminder function)

"Purge" function for coffee delivery groups