Franke A800 Coffee Machine With FoamMaster Milk System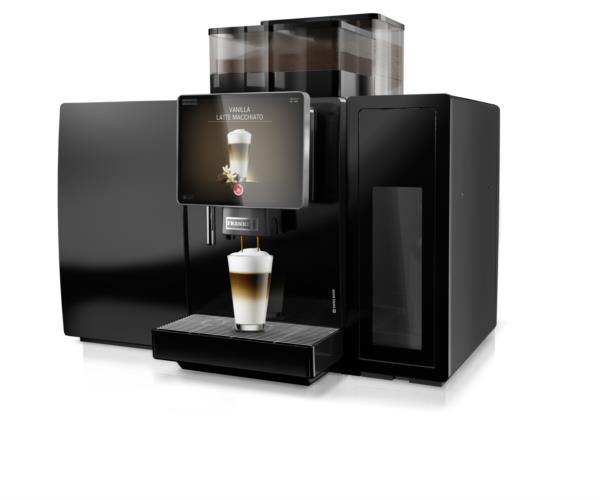 This machine is designed to handle large volume orders simultaenously.
The Franke A800 FM coffee machine is a heavy duty bean to cup coffee machine ideal for universities, hospitals, offices and restaurants; it utilises the unique FoamMaster milk technology from Franke Coffee Systems for remarkable levels of control, milk density and reduced waste.
FoamMaster™ (FM)
CleanMaster (CM)
EasyClean (EC)
Coffee grounds ejector
Cup sensor
Delivery, Installation, Training included.
Click here to read full description >
Franke Coffee Machine A800 With FoamMaster Milk System
The Franke A800 FM is a heavy-duty bean to cup coffee machine designed to vend large volumes of speciality coffees quickly and easily in commercial environments. Do you need to brew a perfect espresso, foam some milk, and prepare a hot tea all at the same time? The professional three-boiler system of the Franke A800 FM can handle this with ease.
The 10.4-inch touchscreen on the A800 invites you to select your desired beverage with the greatest ease. Feast your eyes on the attractively presented drinks in high definition and fall in love with the intuitive menu navigation.
With its triple boiler system and superior operating concept, the Franke A800 is also designed to handle large order volumes in a short amount of time. In the hands of a creative operator, the integrated FoamMasterTM technology, chocolate dosing system, up to three grinders, and optional Flavor Station can be used not just to deliver any quantity of beverages, but also to fulfil even the most exotic of drink requests.
Features
FoamMaster™ (FM): hot and cold milk and milk foam, individually adjustable consistency, integrated cleaning system.
CleanMaster (CM): fully automatic cleaning system with an integrated cleaning cartridge.
For outstanding hygiene and unbeatable simplicity, efficiency, and convenience.
EasyClean (EC): automatic cleaning system with manual addition of the cleaning fluid.
Perfect hygiene in just a few steps. Second or third bean grinder.
Bean hopper: 1 × 2 kg, 2 × 1.2 kg, 2 × 0.6 kg, 1 × 2 kg + 1 × 0.6 kg, 2 × 1.2 kg + 1 × 0.6 kg or 2 × 0.6 kg + 1 × 0.6 kg, lockable.
One or two separate powder dosing systems (for chocolate or milk powder), lockable.
Coffee grounds ejector. Cup sensor.
M2M/telemetry.
Accounting system: can be used for various payment methods, e.g. with coins, cards.
Ideally suited to public/private vending applications.
Raised feet (100 mm).
Steam spout, Autosteam (enhanced milk foaming) or Autosteam Pro (automatic milk foaming).
Cup warmer with four heatable trays. Second milk type (only with the SU12).
A special outlet for a jug (instead of steam solutions).
Automatic dosing station for up to three flavours.
Drink Selection Ristretto | Espresso
Coffee | Café Crème
Brewed Coffee
Cappuccino | Latte Macchiato
Chococcino
Chocolate
Hot Milk
Hot Milk Foam
Hot Water | Steam
The following accessories can be combined with the A800:
Refrigeration unit in product design (available in 5 l EC/12 l EC), lockable.
Perfect hygiene: intelligent milk hose coupling for contact-free filling.
Fill level alerts via the A800 display.
Top storage surface functions as heatable cup rack, with on/off switch.
Under-counter installation option (available in 5 l EC/12 l EC).
Refrigeration unit (4 l), lockable. Refrigeration unit (5 l), lockable.
Combination of lockable refrigeration unit (5 l) with two heatable cup racks (80 cups).
Dosing station with three syrups, automatic dosing, lockable.
Can also be fitted with liquors.
Top storage surface functions as heatable cup rack, with on/off switch.
Accounting System the Money Maestro which can be used for various payment methods, e.g. with coins, card.
The specs of this machine are: Height x Width x Depth mm 770 x 340 x 600
Description

Franke Coffee Machine A800 With FoamMaster Milk System

The Franke A800 FM is a heavy-duty bean to cup coffee machine designed to vend large volumes of speciality coffees quickly and easily in commercial environments. Do you need to brew a perfect espresso, foam some milk, and prepare a hot tea all at the same time? The professional three-boiler system of the Franke A800 FM can handle this with ease.

The 10.4-inch touchscreen on the A800 invites you to select your desired beverage with the greatest ease. Feast your eyes on the attractively presented drinks in high definition and fall in love with the intuitive menu navigation.

With its triple boiler system and superior operating concept, the Franke A800 is also designed to handle large order volumes in a short amount of time. In the hands of a creative operator, the integrated FoamMasterTM technology, chocolate dosing system, up to three grinders, and optional Flavor Station can be used not just to deliver any quantity of beverages, but also to fulfil even the most exotic of drink requests.

Features

FoamMaster™ (FM): hot and cold milk and milk foam, individually adjustable consistency, integrated cleaning system.
CleanMaster (CM): fully automatic cleaning system with an integrated cleaning cartridge.
For outstanding hygiene and unbeatable simplicity, efficiency, and convenience.
EasyClean (EC): automatic cleaning system with manual addition of the cleaning fluid.
Perfect hygiene in just a few steps. Second or third bean grinder.
Bean hopper: 1 × 2 kg, 2 × 1.2 kg, 2 × 0.6 kg, 1 × 2 kg + 1 × 0.6 kg, 2 × 1.2 kg + 1 × 0.6 kg or 2 × 0.6 kg + 1 × 0.6 kg, lockable.
One or two separate powder dosing systems (for chocolate or milk powder), lockable.
Coffee grounds ejector. Cup sensor.
M2M/telemetry.
Accounting system: can be used for various payment methods, e.g. with coins, cards.
Ideally suited to public/private vending applications.
Raised feet (100 mm).
Steam spout, Autosteam (enhanced milk foaming) or Autosteam Pro (automatic milk foaming).
Cup warmer with four heatable trays. Second milk type (only with the SU12).
A special outlet for a jug (instead of steam solutions).
Automatic dosing station for up to three flavours.
Drink Selection Ristretto | Espresso
Coffee | Café Crème
Brewed Coffee
Cappuccino | Latte Macchiato
Chococcino
Chocolate
Hot Milk
Hot Milk Foam
Hot Water | Steam

The following accessories can be combined with the A800:

Refrigeration unit in product design (available in 5 l EC/12 l EC), lockable.
Perfect hygiene: intelligent milk hose coupling for contact-free filling.
Fill level alerts via the A800 display.
Top storage surface functions as heatable cup rack, with on/off switch.
Under-counter installation option (available in 5 l EC/12 l EC).
Refrigeration unit (4 l), lockable. Refrigeration unit (5 l), lockable.
Combination of lockable refrigeration unit (5 l) with two heatable cup racks (80 cups).
Dosing station with three syrups, automatic dosing, lockable.
Can also be fitted with liquors.
Top storage surface functions as heatable cup rack, with on/off switch.
Accounting System the Money Maestro which can be used for various payment methods, e.g. with coins, card.
The specs of this machine are: Height x Width x Depth mm 770 x 340 x 600