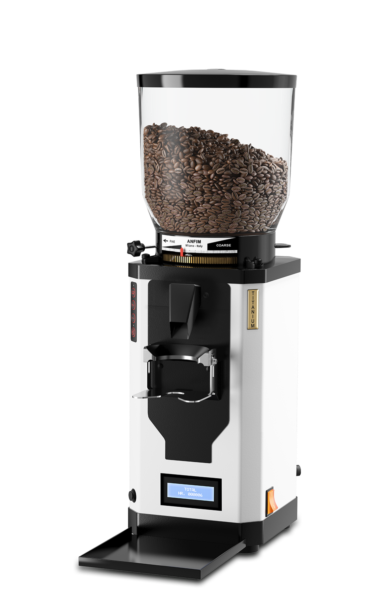 For high-volume cafe owners who can't compromise on quality.
Built for high-volume shops, the SP II+ is the top choice for unrelenting high-quality performance and clean flavour – and all the bells and whistles.
Bean hopper slide
Overload protection
Proximity sensor
Multifunction display & control unit
Stepless grind adjustment
Dual cooling fan system
Safety switch under the bean hopper
Safety switch behind the spout
Removable back panel
Click here to read full description >
£1,818.42
*
Reduced from £2,424.56
(saving £606.14)
*Reduced Reason: Black Friday Sale
Description
Technical Info
Our flagship grinder, but even better. The SP II was already the most advanced grinder in our portfolio — with 75mm titanium coated grinders and a powerful 720w motor, it could grind through 5-6 kg of beans per day and handle whatever the busiest workflows had to throw at it.
But technology doesn't stand still and neither do we. That's why we designed the SP II + for baristas that demand excellence. The SP II+ comes with:
Automatic proximity sensor means only starts grinding when it detects a portafilter

Upgraded cooling system with industry leading IP55 fans keeps the interior temperature stable

Removable rear panel that brings a smile to every technician's face. Routine maintenance just got a whole lot easier

Additional safety switches that keep accidents from happening during maintenance
The SP II+ is for high-volume café owners who can't compromise on quality
Burr diameter

75 SP mm

Burr material

Titanium coated burrs

Voltage / Frequency / Phase*

220-240/50/1

Watt

720 W

RPM

650 rpm

Grinding capacity up to

5-6 kg/day

Grinding time for single Espresso

2.2 s

Bean hopper capacity

2.0 kg

Dimensions (w x h x d)

220 x 620 x 370 mm

Net weight

16.3 kg

Shipping weight

18.4 kg

Color option**

Black/Black, White/Black, Grey, Red
Description

Our flagship grinder, but even better. The SP II was already the most advanced grinder in our portfolio — with 75mm titanium coated grinders and a powerful 720w motor, it could grind through 5-6 kg of beans per day and handle whatever the busiest workflows had to throw at it.

But technology doesn't stand still and neither do we. That's why we designed the SP II + for baristas that demand excellence. The SP II+ comes with:

Automatic proximity sensor means only starts grinding when it detects a portafilter

Upgraded cooling system with industry leading IP55 fans keeps the interior temperature stable

Removable rear panel that brings a smile to every technician's face. Routine maintenance just got a whole lot easier

Additional safety switches that keep accidents from happening during maintenance

The SP II+ is for high-volume café owners who can't compromise on quality

Technical Info

Burr diameter

75 SP mm

Burr material

Titanium coated burrs

Voltage / Frequency / Phase*

220-240/50/1

Watt

720 W

RPM

650 rpm

Grinding capacity up to

5-6 kg/day

Grinding time for single Espresso

2.2 s

Bean hopper capacity

2.0 kg

Dimensions (w x h x d)

220 x 620 x 370 mm

Net weight

16.3 kg

Shipping weight

18.4 kg

Color option**

Black/Black, White/Black, Grey, Red