Aeropress Filters (1x350)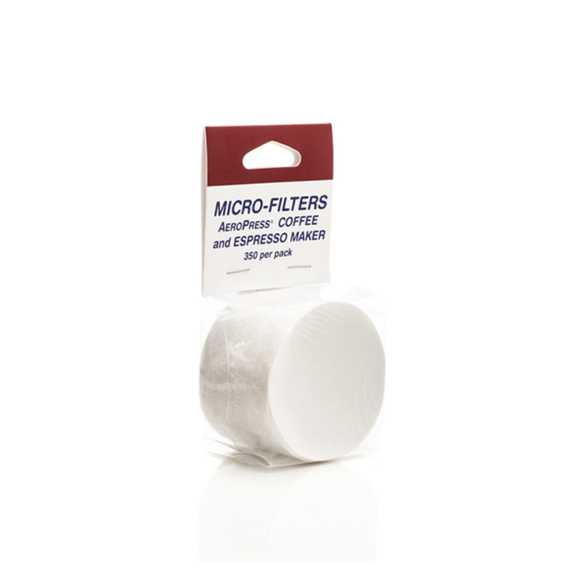 Aeropress Filters (1x350)
Pack of 350 Filters
Filters used for Aeropress Aerobie
Pack of 350
Made in the USA
Removes grit for a smoother cup of coffee
Disposable
Click here to read full description >
£3.35
*
Reduced from £5.86
(saving £2.51)
*Reduced Reason: Being discontinued
Description
Delivery Rates
Keep the pep in your step and the java flowing with these Aerobie AeroPress 350 count replacement coffee filters.
These filters are made in the USA and are designed to be used with the Aerobie Aeropress coffee and espresso maker.
With 350 microfilters, you'll have enough to last for a good amount of time.
Unlike other coffee press filters, these filters remove grit, resulting in a smoother cup of coffee.
By using these filters with your Aerobie AeroPress Coffee and Espresso maker, you can have smooth, great-tasting coffee or espresso in under a minute.
Description

Keep the pep in your step and the java flowing with these Aerobie AeroPress 350 count replacement coffee filters.

These filters are made in the USA and are designed to be used with the Aerobie Aeropress coffee and espresso maker.

With 350 microfilters, you'll have enough to last for a good amount of time.

Unlike other coffee press filters, these filters remove grit, resulting in a smoother cup of coffee.

By using these filters with your Aerobie AeroPress Coffee and Espresso maker, you can have smooth, great-tasting coffee or espresso in under a minute.

Delivery Rates

Delivery Service

Minimum Spend £10

Royal Mail Tracked - Standard

Free

Royal Mail Tracked - Next Working Day

£2.34

Courier - Next Working Day

£5.40

Courier - Next Working Day Before Midday

£12.60

Courier - Channel Islands (2-4 Day)

£23.94

Courier - Northern Ireland (2-3 Days)

£23.94

Courier - Scotland/Highlands (2-3 Days)

£23.94