Conti CC103TC Coffee Machine - Tall Cup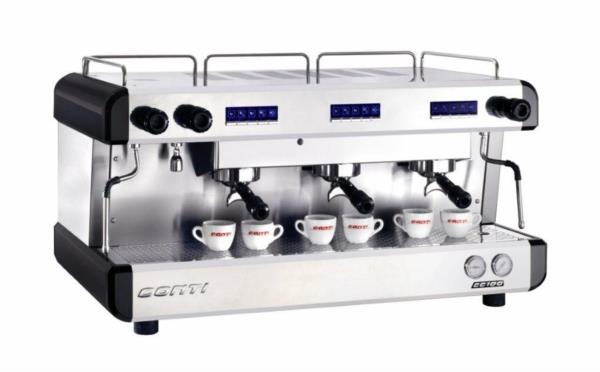 Efficient, Robust and Competitive
Features that make this machine stand out from the crowd
Integrated rotative pump
Copper boiler
Volumetric dosing
2 pressure gauges : boiler pressure and pump pressure
1 hot water device
Heating element protected by klixon
Boiler temperature controlled by PID system
Advanced Thermosyphon system with adjustable flow control ensures maximum temperature, stability and consistency.
2 x Lever Activated Steam Arms for ease of use with sprung-loaded 'Purge' function which ensures steam arm stays free from milk build-up.
Dual pressure gauges, one to measure mains and pump pressure, one for boiler pressure.
Variable Pre-Infusion – This allows you to vary the pre-infusion time to ensure optimum espresso extraction.
Click here to read full description >
Description

Additional Information

Delivery Rates
Conti CC103 Espresso Machine
Efficient, Robust and Competitive
Features that make this machine stand out from the crowd
Automatic group cleaning function - makes cleaning simple and frees you up to do other things!
Eco Mode drops the boiler temperature to 60°C - perfect for quiet periods or overnight and enables the machine to heat up faster for service. No need to switch the machine off anymore!
Technical Features
Integrated rotative pump
Copper boiler
Volumetric dosing
2 pressure gauges : boiler pressure and pump pressure
1 hot water device
Heating element protected by klixon
Boiler temperature controlled by PID system
Advanced Thermosyphon system with adjustable flow control ensures maximum temperature, stability and consistency.
2 x Lever Activated Steam Arms for ease of use with sprung-loaded 'Purge' function which ensures steam arm stays free from milk build up.
Dual pressure gauges, one to measure mains and pump pressure, one for boiler pressure.
Variable Pre-Infusion – allows you to vary the pre-infusion time ensures optimum espresso extraction.
Cup heights: Espresso - 80mm Tall Cup - 165mm
3 Group
Power - 4700w - option to upgrade to 6000w
Size - 919mm wide x 500mm high (585mm for tall cup) x 512mm deep
Boiler capacity - 18litre
Weight - 72kg
Description

Conti CC103 Espresso Machine

Efficient, Robust and Competitive

Features that make this machine stand out from the crowd

Automatic group cleaning function - makes cleaning simple and frees you up to do other things!

Eco Mode drops the boiler temperature to 60°C - perfect for quiet periods or overnight and enables the machine to heat up faster for service. No need to switch the machine off anymore!

Technical Features

Integrated rotative pump
Copper boiler
Volumetric dosing
2 pressure gauges : boiler pressure and pump pressure
1 hot water device
Heating element protected by klixon
Boiler temperature controlled by PID system
Advanced Thermosyphon system with adjustable flow control ensures maximum temperature, stability and consistency.
2 x Lever Activated Steam Arms for ease of use with sprung-loaded 'Purge' function which ensures steam arm stays free from milk build up.
Dual pressure gauges, one to measure mains and pump pressure, one for boiler pressure.
Variable Pre-Infusion – allows you to vary the pre-infusion time ensures optimum espresso extraction.
Cup heights: Espresso - 80mm Tall Cup - 165mm

Additional Information

3 Group
Power - 4700w - option to upgrade to 6000w
Size - 919mm wide x 500mm high (585mm for tall cup) x 512mm deep
Boiler capacity - 18litre
Weight - 72kg

Delivery Rates

Delivery Service

Minimum Spend £10

Royal Mail Tracked - Standard

Free

Royal Mail Tracked - Next Working Day

£2.34

Courier - Next Working Day

£5.40

Courier - Next Working Day Before Midday

£12.60

Courier - Channel Islands (2-4 Day)

£23.94

Courier - Northern Ireland (2-3 Days)

£23.94

Courier - Scotland/Highlands (2-3 Days)

£23.94