Tamper - Motta Coffee Levelling Tool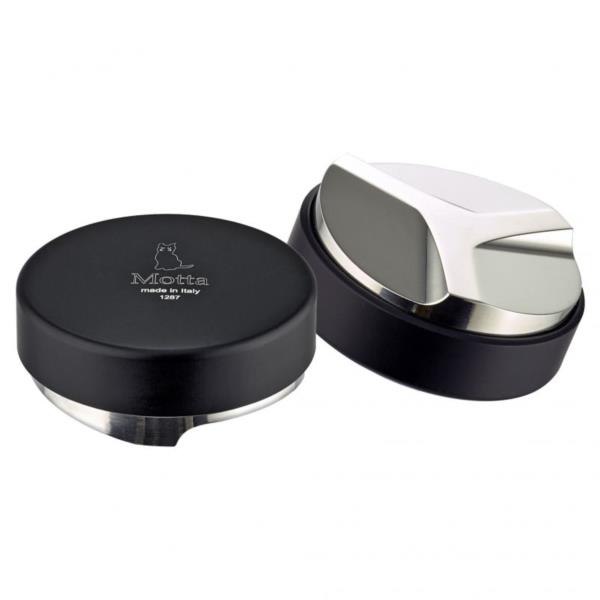 Description
Delivery Rates
Upgrade the quality of your coffee extractions with the Motta Coffee Levelling Tool for 58mm Filterholders.
Place the tool onto a filter basket with the correct dose of fresh coffee grounds, then push down and twist clockwise.
The angled underside distributes the grounds evenly to help improve consistent extraction.
Highly effective when used with a tamper, and very useful for baristas who serve great coffee but want to improve consistency.
Professional grade product. Made in Italy from high-quality stainless steel and aluminium


Product features
Brand: Motta
Material: stainless steel
Design: Black
Size: 58mm
Branding: Motta
Country of origin: Italy
Description

Upgrade the quality of your coffee extractions with the Motta Coffee Levelling Tool for 58mm Filterholders.

Place the tool onto a filter basket with the correct dose of fresh coffee grounds, then push down and twist clockwise.

The angled underside distributes the grounds evenly to help improve consistent extraction.

Highly effective when used with a tamper, and very useful for baristas who serve great coffee but want to improve consistency.

Professional grade product. Made in Italy from high-quality stainless steel and aluminium



Product features

Brand: Motta

Material: stainless steel

Design: Black

Size: 58mm

Branding: Motta

Country of origin: Italy

Delivery Rates

Delivery Service

Minimum Spend £12.50

Royal Mail Tracked - Standard

Free

Courier - Next Working Day

£4.99

Courier - Next Working Day Before Midday

£12.60

Courier - Channel Islands (2-4 Day)

£23.94

Courier - Northern Ireland (2-3 Days)

£23.94

Courier - Scotland/Highlands (2-3 Days)

£23.94