Simply Topping Sauce - Pistachio 1kg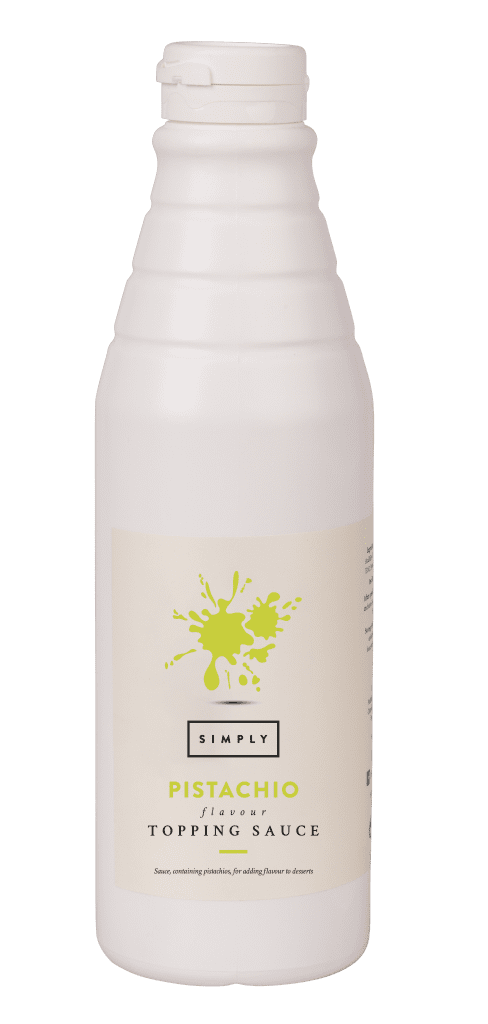 Simply Topping Sauce - Pistachio 1kg
1 x 1kg
dd a delicious nuttiness to your drinks and desserts.
Vegan Approved
Halal Certified
Ready to use – just drizzle over a drink or dessert as required.
Contains: Milk, Pistachios, Lactose and Soya.
May contain traces of Nuts.
Click here to read full description >
Description
Delivery Rates
Made with real pistachios, the eye-catching green colour and smooth nutty flavour pairs with so many syrups. Go fruity, nutty, fresh or floral – this sauce can do it all!
The range of Simply Topping Sauces are easy to use and can be used in hot and cold drinks as well as desserts. Use to decorate your cup before pouring in your drink, as an extra topping over whipped cream or drizzled over cakes and desserts.
Storage instructions: Store in dry, cool ambient conditions.
After opening: After opening, keep container closed. Keep cap area clean and free from sauce residues. Store in cool dry ambient conditions, away from direct sunlight.
Description

Made with real pistachios, the eye-catching green colour and smooth nutty flavour pairs with so many syrups. Go fruity, nutty, fresh or floral – this sauce can do it all!

The range of Simply Topping Sauces are easy to use and can be used in hot and cold drinks as well as desserts. Use to decorate your cup before pouring in your drink, as an extra topping over whipped cream or drizzled over cakes and desserts.

Storage instructions: Store in dry, cool ambient conditions.

After opening: After opening, keep container closed. Keep cap area clean and free from sauce residues. Store in cool dry ambient conditions, away from direct sunlight.

Delivery Rates

Delivery Service

Minimum Spend £12.50

Royal Mail Tracked - Standard

Free

Courier - Next Working Day

£4.99

Courier - Next Working Day Before Midday

£12.60

Courier - Channel Islands (2-4 Day)

£23.94

Courier - Northern Ireland (2-3 Days)

£23.94

Courier - Scotland/Highlands (2-3 Days)

£23.94