Sage The Barista Pro™ Espresso Coffee Machine - Black Truffle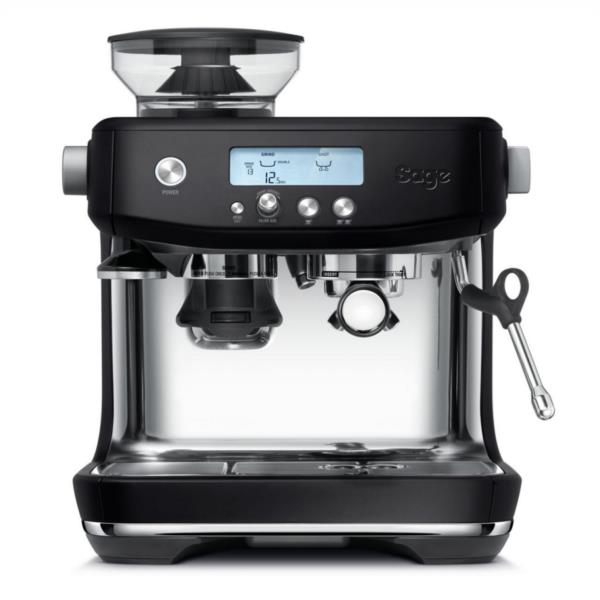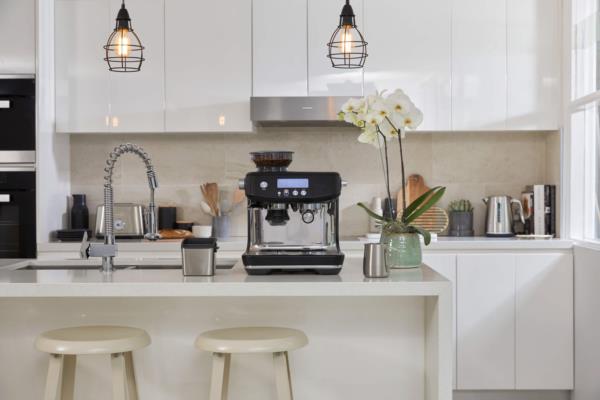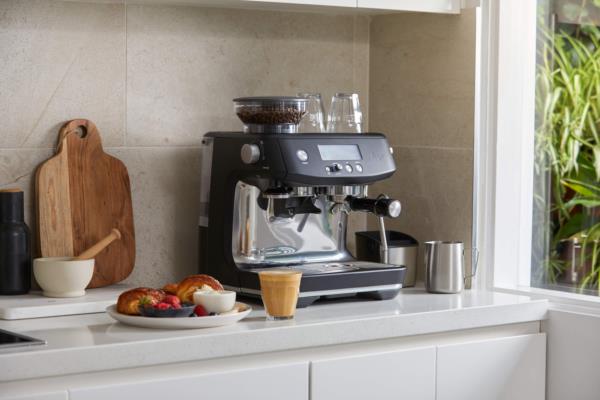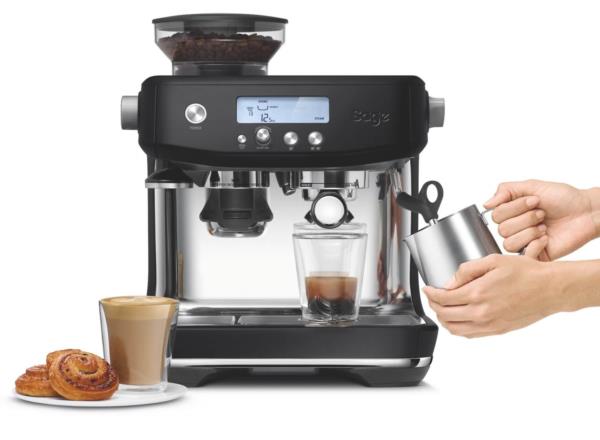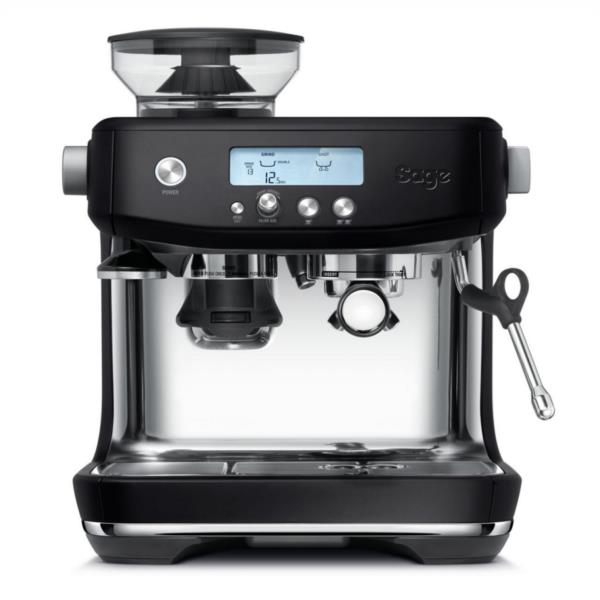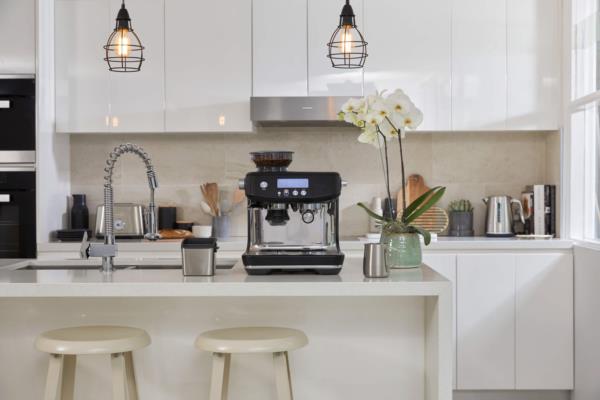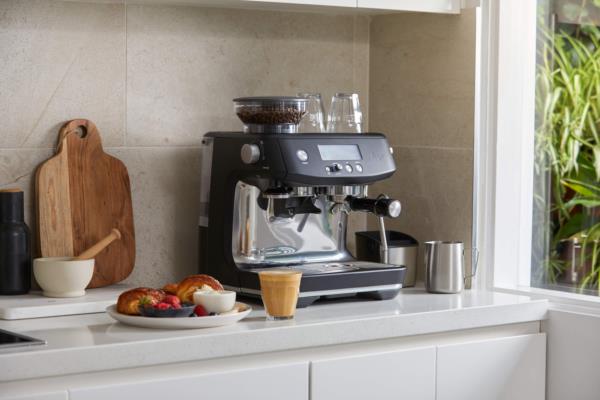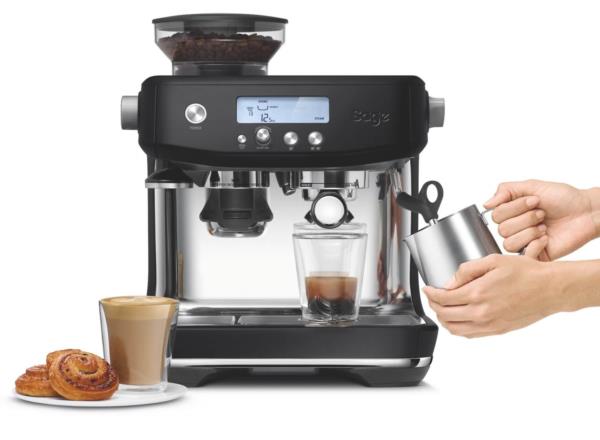 Enjoy fresh, barista-style coffee with this black truffle bean to cup coffee machine from Sage.
Whether you prefer a smooth, indulgent drink or one with a little more kick, the variable grinding option lets you tailor the blend to suit your personal tastes.
Variable grinding to get coarse or fine coffee granules
Built-in grinder uses less heat to preserve flavour
Perfect water temperature preserves flavour of the bean
Microfoam milk tech - create beautiful latte art
The cleaning function keeps your machine in great condition
Click here to read full description >
This item is currently out of stock.
Description

Additional Information

Technical Info
Enjoy third-wave speciality coffee at home with the Sage The Barista Pro SES878BTR Bean to Cup Coffee Machine.
Its innovative ThermoJet heating system takes only 3 seconds to reach the right extraction temperature, so you won't have to wait long for your beloved brew.
The intuitive LCD display shows you everything you need at a glance – simply choose your dose and grind size, then watch the machine go to work.
The grinding and extracting animations let you follow your coffee from bean to cup. With the Barista Pro, it's easy to get the perfect brew.
The single-touch grinder with dose control delivers exactly the right amount of coffee. And the digital temperature control and low-pressure pre-infusion give you a balanced, rich taste, every time.
The SES878BTR comes with a pressurized steam wand, so you can make a range of coffee types and impress your friends with your latte art. And it has a memory function, so you can also save your favourite coffee setup.
Box contents
Sage The Barista Pro SES878BTR Bean to Cup Coffee Machine - Portafilter - Filter baskets - Dual wall 1 cup filter - Dual wall 2 cup filter - The Razor precision dose trimming tool - Cleaning kit - 480ml milk texturing jug - Water filter
INTUITIVE INTERFACE
LCD display with grinding and extracting progress animations. The screen provides you all the precise information you need to make coffee exactly the way you like it, every time.
FASTER HEAT UP TIME
Innovative ThermoJet heating system achieves the optimum extraction temperature in 3 seconds with instantaneous transition from espresso to steam. Ready to make your best coffee without the wait.
INTEGRATED CONICAL BURR GRINDER
With a single touch, the integrated conical burr grinder with dose control delivers the right amount of coffee on demand, for maximum flavour. Adjustable grind size and dose.
RICH FULL FLAVOUR
Achieve a consistent and balanced espresso using the right amount of ground coffee. The 54mm porta-filter with 18 grams is the key for full flavour and third-wave specialty coffee
PRECISE ESPRESSO EXTRACTION
Digital Temperature Control (PID) delivers water at the right temperature +/- 2°c, ensuring optimal espresso extraction. Low-pressure pre-infusion gradually increases pressure at the start and helps ensure all the flavours are drawn out evenly during the extraction for a balanced tasting cup.
MICROFOAM MILK TEXTURING
The powerful steam wand performs at the level that allows you to hand texture micro-foam milk that enhances flavour and enables the creation of latté art.
Auto power shut-off

Yes

Digital display

LCD

Water level indicator

Yes

Programmable hot water temperature

Yes

Milk container

Yes, 480 ml

Integrated grinder

Yes

Coffee strength settings

30 grind settings

Programs

Adjustable Grind Control - 1 & 2 Cup Volumetric Control

Integrated water filter

Yes

Milk frother

Yes

Bean dispenser

Yes, for up to 250 g

Variable cup size

Yes

Memory function

Yes

Removable reservoir

Yes

Rinsing program

Yes

Drip tray

Yes

Cleaning program

Yes

Descaling program

Yes

Coffee type

Whole beans - Ground coffee

Drink types

Espresso - Cappuccino - Latte - Flat white - Americano

Power

1680 W

Water tank capacity

2 litres

Material

Stainless steel

Colour

Black truffle

Pressure

9-bar

Thermoblock

Yes

Dimensions

406 x 354 x 406 mm (H x W x D)

Weight

9.08 kg

Power cord length

1.4 m

Manufacturer's guarantee

2 years
Description

Enjoy third-wave speciality coffee at home with the Sage The Barista Pro SES878BTR Bean to Cup Coffee Machine.

Its innovative ThermoJet heating system takes only 3 seconds to reach the right extraction temperature, so you won't have to wait long for your beloved brew.

The intuitive LCD display shows you everything you need at a glance – simply choose your dose and grind size, then watch the machine go to work.

The grinding and extracting animations let you follow your coffee from bean to cup. With the Barista Pro, it's easy to get the perfect brew.

The single-touch grinder with dose control delivers exactly the right amount of coffee. And the digital temperature control and low-pressure pre-infusion give you a balanced, rich taste, every time.

The SES878BTR comes with a pressurized steam wand, so you can make a range of coffee types and impress your friends with your latte art. And it has a memory function, so you can also save your favourite coffee setup.

Box contents

Sage The Barista Pro SES878BTR Bean to Cup Coffee Machine - Portafilter - Filter baskets - Dual wall 1 cup filter - Dual wall 2 cup filter - The Razor precision dose trimming tool - Cleaning kit - 480ml milk texturing jug - Water filter

Additional Information

INTUITIVE INTERFACE

LCD display with grinding and extracting progress animations. The screen provides you all the precise information you need to make coffee exactly the way you like it, every time.

FASTER HEAT UP TIME

Innovative ThermoJet heating system achieves the optimum extraction temperature in 3 seconds with instantaneous transition from espresso to steam. Ready to make your best coffee without the wait.

INTEGRATED CONICAL BURR GRINDER

With a single touch, the integrated conical burr grinder with dose control delivers the right amount of coffee on demand, for maximum flavour. Adjustable grind size and dose.

RICH FULL FLAVOUR

Achieve a consistent and balanced espresso using the right amount of ground coffee. The 54mm porta-filter with 18 grams is the key for full flavour and third-wave specialty coffee

PRECISE ESPRESSO EXTRACTION

Digital Temperature Control (PID) delivers water at the right temperature +/- 2°c, ensuring optimal espresso extraction. Low-pressure pre-infusion gradually increases pressure at the start and helps ensure all the flavours are drawn out evenly during the extraction for a balanced tasting cup.

MICROFOAM MILK TEXTURING

The powerful steam wand performs at the level that allows you to hand texture micro-foam milk that enhances flavour and enables the creation of latté art.

Technical Info

Auto power shut-off

Yes

Digital display

LCD

Water level indicator

Yes

Programmable hot water temperature

Yes

Milk container

Yes, 480 ml

Integrated grinder

Yes

Coffee strength settings

30 grind settings

Programs

Adjustable Grind Control - 1 & 2 Cup Volumetric Control

Integrated water filter

Yes

Milk frother

Yes

Bean dispenser

Yes, for up to 250 g

Variable cup size

Yes

Memory function

Yes

Removable reservoir

Yes

Rinsing program

Yes

Drip tray

Yes

Cleaning program

Yes

Descaling program

Yes

Coffee type

Whole beans - Ground coffee

Drink types

Espresso - Cappuccino - Latte - Flat white - Americano

Power

1680 W

Water tank capacity

2 litres

Material

Stainless steel

Colour

Black truffle

Pressure

9-bar

Thermoblock

Yes

Dimensions

406 x 354 x 406 mm (H x W x D)

Weight

9.08 kg

Power cord length

1.4 m

Manufacturer's guarantee

2 years