Quamar M80T Touch On Demand Grinder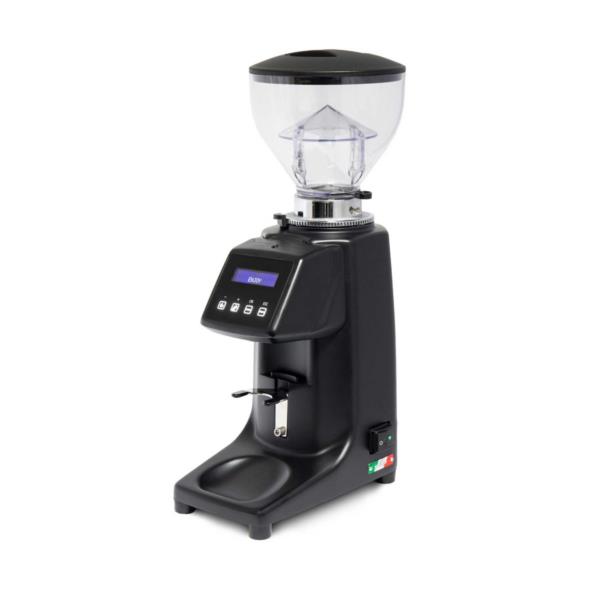 Electronic Touch Coffee Grinder On Demand
To meet the market demand, Quamar has developed the M80/T model, the On-Demand coffee grinder of the new touch line.
Display support with the new Quamar style design
Advanced technical settings
Display with touch keyboard and intuitive electronic interface
Improvement of the classic rubberized filter holder fork
Capacitive touch screen display 3.5" RGB colour
Click here to read full description >
Description
Technical Info
The main feature that distinguishes the Touchline is the new display with a touch keyboard.
The M80T Touch is the evolution of the classic M80T Electronic model in which the front coffee funnel has been replaced by the display support mask containing a sophisticated cylindrical pipe for the coffee powder dispensing.
User-friendly programming, user interface available in 7 languages.
M80/T can be supplied with the following optional equipment: coffee powder tray, four different capacities hopper (250g – 500g – 1.2kg – 1.5kg)
M80/Touch is supplied with a short fork, its rapid grinding makes it possible not to detach the handle from the filter holder, ensuring in a short time an excellent ground coffee. The fork with a non-slip rubberised end can also be long, allowing the holder to be supported without the operator's manual support.
Burrs

flat type Ø 63 mm food-friendly

Voltage, power

110-120 V - 50/60 Hz, 460 W

220-240 V

50/60 Hz, 420 W

380-400 V

50/60 Hz, 230 W

R.P.M.

1.400/min (50 Hz) - 1.600/min (60 Hz)

Suggested daily production

up to 3,5 kg

Suggested use

espresso, mocha, filter, V60

Dose system

automatic or manual setting for a single and double dose

Grinding adjustment

step by step with a range of 0.01 mm per degree

Material

aluminium body

Standard hopper capacity

1200 g

Net weight

11 kg

Dimensions

175 x 290 x 560H mm

Optional

Bean hopper 250 g, 500 g, 1500 g
Description

The main feature that distinguishes the Touchline is the new display with a touch keyboard.

The M80T Touch is the evolution of the classic M80T Electronic model in which the front coffee funnel has been replaced by the display support mask containing a sophisticated cylindrical pipe for the coffee powder dispensing.

User-friendly programming, user interface available in 7 languages.

M80/T can be supplied with the following optional equipment: coffee powder tray, four different capacities hopper (250g – 500g – 1.2kg – 1.5kg)

M80/Touch is supplied with a short fork, its rapid grinding makes it possible not to detach the handle from the filter holder, ensuring in a short time an excellent ground coffee. The fork with a non-slip rubberised end can also be long, allowing the holder to be supported without the operator's manual support.

Technical Info

Burrs

flat type Ø 63 mm food-friendly

Voltage, power

110-120 V - 50/60 Hz, 460 W

220-240 V

50/60 Hz, 420 W

380-400 V

50/60 Hz, 230 W

R.P.M.

1.400/min (50 Hz) - 1.600/min (60 Hz)

Suggested daily production

up to 3,5 kg

Suggested use

espresso, mocha, filter, V60

Dose system

automatic or manual setting for a single and double dose

Grinding adjustment

step by step with a range of 0.01 mm per degree

Material

aluminium body

Standard hopper capacity

1200 g

Net weight

11 kg

Dimensions

175 x 290 x 560H mm

Optional

Bean hopper 250 g, 500 g, 1500 g