Latte Glass 13oz / 380ml (1x12)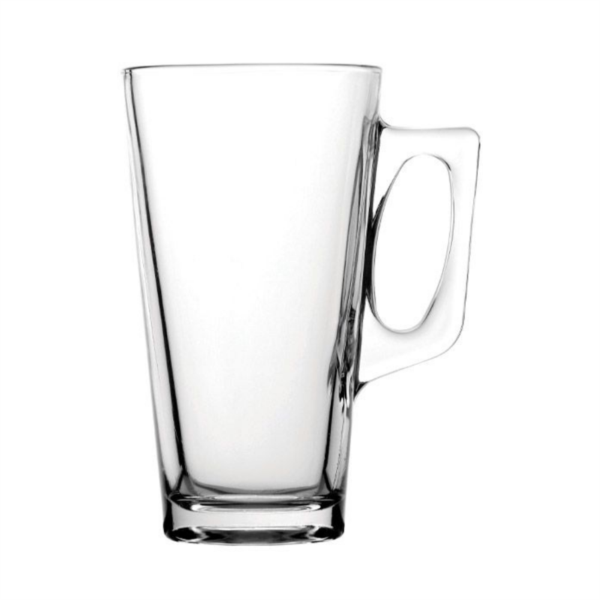 Description
Technical Info
Delivery Rates
12 x Latte glass 13oz / 380ml
Great for hot winter drinks including latte, tea, mulled wine, hot chocolate, hot toddy and Irish coffee.
This contemporary glass mug is fully tempered and is extremely strong and durable making it ideal for commercial use.
Always pre-heat the glass before serving hot drinks to ensure that your customers will enjoy the hot beverage for longer. The spoon should be put into the glass first to prevent thermal shock, as the spoon dissipates some of the heat from the latte glass.
Key Features:
Glass Mug
Full toughened glass
Handle
Strong and durable
Attractive design
Glasswasher safe
Description

12 x Latte glass 13oz / 380ml

Great for hot winter drinks including latte, tea, mulled wine, hot chocolate, hot toddy and Irish coffee.

This contemporary glass mug is fully tempered and is extremely strong and durable making it ideal for commercial use.

Always pre-heat the glass before serving hot drinks to ensure that your customers will enjoy the hot beverage for longer. The spoon should be put into the glass first to prevent thermal shock, as the spoon dissipates some of the heat from the latte glass.

Key Features:

Glass Mug
Full toughened glass
Handle
Strong and durable
Attractive design
Glasswasher safe

Technical Info

Delivery Rates

Delivery Service

Minimum Spend £10

Royal Mail Tracked - Standard

Free

Courier - Next Working Day

£2.99

Courier - Next Working Day Before Midday

£12.60

Courier - Channel Islands (2-4 Day)

£23.94

Courier - Northern Ireland (2-3 Days)

£23.94

Courier - Scotland/Highlands (2-3 Days)

£23.94