The Barista's Guide to Milk Alternatives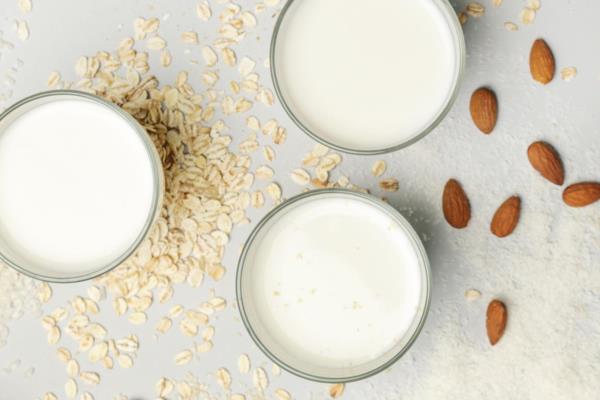 Here at Coffee Masters, we talk to lots of café owners who want to offer their customers a milk alternative but feel overwhelmed by the sheer amount of choice available.
In 2018, dairy-free milk stood out as the biggest growth area for coffee shops. Catherine Seay, co-owner of Curators Coffee in London, attributed this to more customers adopting a vegan diet. 'We've noticed an increase in the popularity of plant-based milk this year,' she told Square UK, 'in the past drinking alternative milk was mainly driven by dietary intolerances, but the popularity of plant-based diets have seen our alternative milk such as oat and soy increase significantly'.
To help you decide which milk alternative is the best fit for your café, we have written a brief guide to the most popular varieties, with the advantages and disadvantages of each one.
1) Soya Milk
Although it's popularity has waned in the face of more trendy alternatives, soya milk is probably still the most recognisable milk alternative on the market. From talking to baristas, I've come across really different opinions on soya as a product. Some find that more flavour-neutral soy milk works well with coffee, while others are put off by the tendency of it to split when heated.
I personally have not had great experiences with soya milk, particularly as it tends to curdle when you steam it. If you are presenting your coffees in a glass, this can pose a problem as the finished drink can look unappetising.
Pros: It's popular, recognised and reasonably flavour neutral.
Cons: It can split when you heat it. Some people are allergic to it or dislike the flavour.
2) Almond milk
According to some reports, almond milk has overtaken soya as the most popular milk alternative.
My experiences with almond milk are also mixed. It gives the coffee a lovely sweet flavour and works well with low acidity, nutty coffees like our Brazil Yellow Bourbon. However, when added to higher acidity coffees like our Colombian single origin, it has a tendency to split in the cup.
It is also a significant allergy risk, so much that some cafes choose to use a separate steam wand and jug for preparing it.
Pros: It's popular and works well when paired with certain coffees.
Cons: It works less well with acidic coffees and is an allergy risk.
3) Coconut milk
Coconut milk is a recognised product in cooking and baking but has only recently become associated with coffee, with Pret a Manger using it as one of their standard milk alternatives.
The most divisive characteristic of coconut milk is obviously its taste, which imparts a very distinct flavour into the coffee. However, for those who enjoy it, coconut milk is a sweet and pleasant addition to a cappuccino or flat white.
Pros: Popular, lovely in a hot chocolate.
Cons: Not everyone will like the taste, and will clearly distort the flavour of the espresso underneath.
4) Oat milk
Oat milk is gaining popularity, particularly in speciality coffee. This is mainly due to how flavour neutral it is, a quality highly prized by those who want their coffee to speak for itself. It has even been used in the World Barista Championships.
Pros: Flavour neutral and on-trend.
Cons: Most versions of this product have low levels of gluten, which means it isn't suitable for those suffering from Celiac disease.