Puly Caff Brew Cleaning Tablets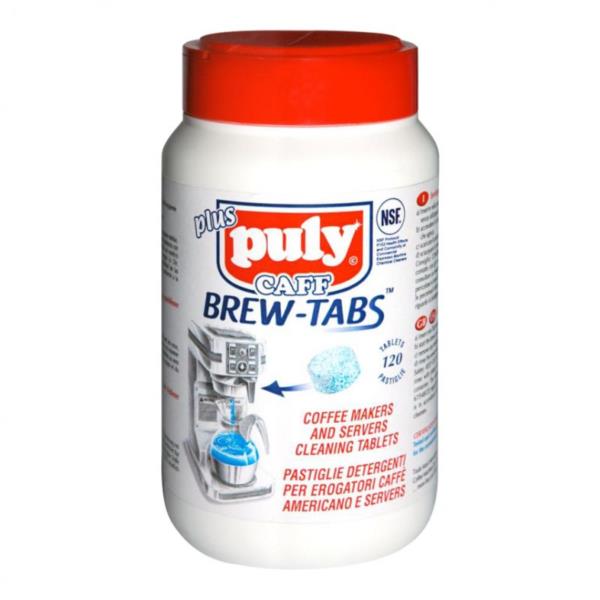 Puly Caff Brew Cleaning Tablets
1 Tub of 120 x 4 Gram Tablets
Effective cleaning tablets for cleaning filter coffee makers, bulk brewers, filter baskets, jugs & containers.
Effective cleaning
Improves coffee flavour
Maintains machine hygiene
Click here to read full description >
This item is currently out of stock.
£14.30
*
Reduced from £19.19
(saving £4.88)
*Reduced Reason: Being discontinued
Description
Delivery Rates
Simply pop a tablet into the filter-basket, brew a jug of water, and rinse through thoroughly to quickly and easily clean filter coffee machines.
Improves coffee flavour and maintains machine hygiene
Product features
Brand: Puly Caff
Size: 4g per tablets
Quantity: 120x4g tablets
Dose: 2g per litre
Also suitable for cleaning domestic machines with aluminium filter holders
Description

Simply pop a tablet into the filter-basket, brew a jug of water, and rinse through thoroughly to quickly and easily clean filter coffee machines.

Improves coffee flavour and maintains machine hygiene

Product features

Brand: Puly Caff

Size: 4g per tablets

Quantity: 120x4g tablets

Dose: 2g per litre

Also suitable for cleaning domestic machines with aluminium filter holders

Delivery Rates

Delivery Service

Minimum Spend £10

Royal Mail Tracked - Standard

Free

Royal Mail Tracked - Next Working Day

£2.34

Courier - Next Working Day

£5.40

Courier - Next Working Day Before Midday

£12.60

Courier - Channel Islands (2-4 Day)

£23.94

Courier - Northern Ireland (2-3 Days)

£23.94

Courier - Scotland/Highlands (2-3 Days)

£23.94