Milfresh Gold - Granulated Skimmed Milk (1x500g)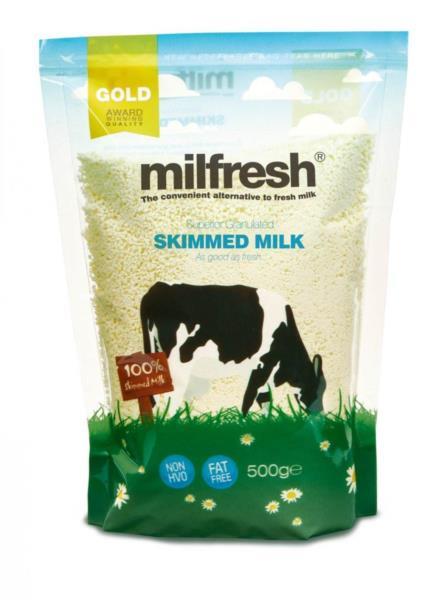 1 x 500g
No need to sacrifice on taste, quality or health
Coffee Shop standard drinks
Made from 100% pure skimmed milk
Healthy heart, fat-free recipe
No added colours, preservatives or Hydrogenated Fats
Click here to read full description >
Description
Delivery Rates
Milfresh Gold (granulated skimmed milk) - 1 x 500g
Want perfect Cappuccinos or Luscious Lattes?
No need to sacrifice on taste, quality or health
Milfresh is the UK brand leader in granulated skimmed milk. Made with 100% dairy goodness, Milfresh products deliver truly authentic Cappuccinos, Lattes and can be used as a complete replacement for fresh milk. Milfresh is made from dried liquid milk, which retains all the flavour and creaminess you would expect from the white stuff.
'Nothing comes closer to fresh' for all hot beverage requirements.
Benefits:
Coffee Shop standard drinks
Made from 100% pure skimmed milk
Healthy heart, fat free recipe
No added colours, preservatives or Hyrdogenated Fats
Think you know automatic beverage milk? Not until you have tried Milfresh.
Description

Milfresh Gold (granulated skimmed milk) - 1 x 500g

Want perfect Cappuccinos or Luscious Lattes?

No need to sacrifice on taste, quality or health

Milfresh is the UK brand leader in granulated skimmed milk. Made with 100% dairy goodness, Milfresh products deliver truly authentic Cappuccinos, Lattes and can be used as a complete replacement for fresh milk. Milfresh is made from dried liquid milk, which retains all the flavour and creaminess you would expect from the white stuff.

'Nothing comes closer to fresh' for all hot beverage requirements.

Benefits:

Coffee Shop standard drinks

Made from 100% pure skimmed milk

Healthy heart, fat free recipe

No added colours, preservatives or Hyrdogenated Fats

Think you know automatic beverage milk? Not until you have tried Milfresh.

Delivery Rates

Delivery Service

Minimum Spend £10

Royal Mail Tracked - Standard

Free

Courier - Next Working Day

£2.99

Courier - Next Working Day Before Midday

£12.60

Courier - Channel Islands (2-4 Day)

£23.94

Courier - Northern Ireland (2-3 Days)

£23.94

Courier - Scotland/Highlands (2-3 Days)

£23.94