JURA Descaling Tablets (36)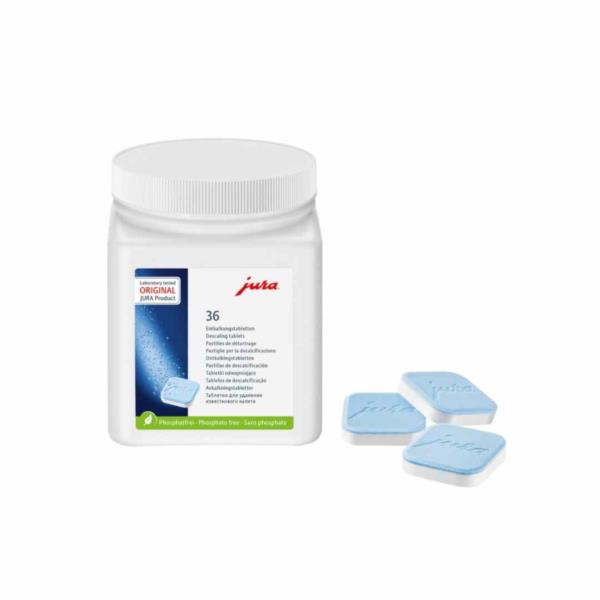 Description
Technical Info
Delivery Rates
JURA Descaling Tablets have been specially developed for JURA coffee machines to thoroughly remove deposits and scale which build up over time, especially in hard water areas.
JURA Descaling Tablets are precisely formulated for use with JURA coffee machines ensuring effective descaling without damaging any components.
Correct use of original JURA Descaling tablets will extend the service life of a JURA coffee machine and help to ensure optimal performance.
Ingredients

(according to regulation (EC) No 648/2004) MALEIC ACID, SUFAMIDIC ACID, SODIUM BICARBONATE, BENZOTRIAZOLE, COLORANT
Description

JURA Descaling Tablets have been specially developed for JURA coffee machines to thoroughly remove deposits and scale which build up over time, especially in hard water areas.

JURA Descaling Tablets are precisely formulated for use with JURA coffee machines ensuring effective descaling without damaging any components.

Correct use of original JURA Descaling tablets will extend the service life of a JURA coffee machine and help to ensure optimal performance.

Technical Info

Ingredients

(according to regulation (EC) No 648/2004) MALEIC ACID, SUFAMIDIC ACID, SODIUM BICARBONATE, BENZOTRIAZOLE, COLORANT

Delivery Rates

Delivery Service

Minimum Spend £10

Royal Mail Tracked - Standard

Free

Royal Mail Tracked - Next Working Day

£2.34

Courier - Next Working Day

£5.40

Courier - Next Working Day Before Midday

£12.60

Courier - Channel Islands (2-4 Day)

£23.94

Courier - Northern Ireland (2-3 Days)

£23.94

Courier - Scotland/Highlands (2-3 Days)

£23.94