Milfresh Fair & Ethical Hot Chocolate (1x1kg)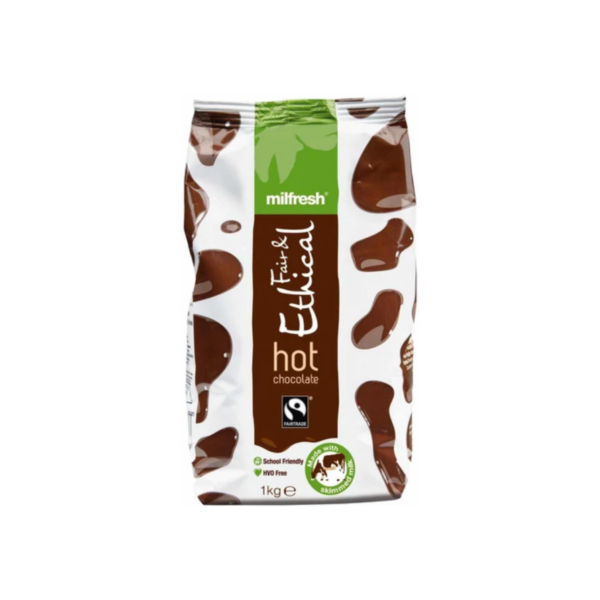 1 x 1kg
Milfresh 100% Fairtrade chocolate.
Complies with School Foods Trust Guidelines
Free of Hydrogenated Vegetable Oils
100% Fairtrade
Rich and Creamy
Click here to read full description >
£2.64
*
Reduced from £5.99
(saving £3.35)
*Reduced Reason: BBE date end of July 21'
Description
Delivery Rates
Milfresh 100% Fairtrade chocolate. Ensures cocoa & sugar farmers are guaranteed a fair wage, decent working and living conditions and are supported and helped to farm sustainably and benefit from community infrastructure investment.
Made with the finest Fairtrade cocoa and skimmed milk, this drinking chocolate delivers a rich and creamy drink, with a smooth and frothy mouth-feel. Not too sweet and not too bitter, Milfresh Hot Chocolate is a great all day drinking hot chocolate that you will love.
Can be used in vending machines or straight from the bag with hot water.
Milfresh Fair & Ethical is free of hydrogenated vegetable oils (HVO's) and complies with School Foods Trust Guidelines.
Suggested gram throws per hot chocolate drink:
200ml (7oz) = 20g
250ml (9oz) = 25g
330ml (12oz) = 30g
Description

Milfresh 100% Fairtrade chocolate. Ensures cocoa & sugar farmers are guaranteed a fair wage, decent working and living conditions and are supported and helped to farm sustainably and benefit from community infrastructure investment.

Made with the finest Fairtrade cocoa and skimmed milk, this drinking chocolate delivers a rich and creamy drink, with a smooth and frothy mouth-feel. Not too sweet and not too bitter, Milfresh Hot Chocolate is a great all day drinking hot chocolate that you will love.

Can be used in vending machines or straight from the bag with hot water.

Milfresh Fair & Ethical is free of hydrogenated vegetable oils (HVO's) and complies with School Foods Trust Guidelines.

Suggested gram throws per hot chocolate drink:

200ml (7oz) = 20g

250ml (9oz) = 25g

330ml (12oz) = 30g

Delivery Rates

Delivery Service

Minimum Spend £10

Royal Mail Tracked - Standard

Free

Royal Mail Tracked - Next Working Day

£2.34

Courier - Next Working Day

£5.40

Courier - Next Working Day Before Midday

£12.60

Courier - Channel Islands (2-4 Day)

£23.94

Courier - Northern Ireland (2-3 Days)

£23.94

Courier - Scotland/Highlands (2-3 Days)

£23.94