JURA Claris Pro Blue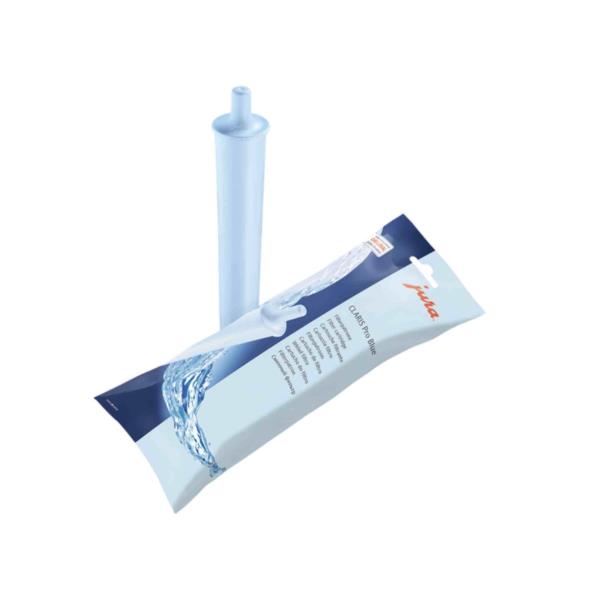 Outstanding filtration technology
CLARIS provides the ideal water quality for the perfect speciality coffees.
Designed specifically for JURA coffee machines
Guarantees freshly filtered water for the perfect cup of coffee
The precise amount of water is filtered immediately before use
Regular use of original JURA Claris water filters extends the service life of a JURA coffee machine
To be used in all JURA coffee machines with a BLUE filter holder in the water tank
Click here to read full description >
£21.05
Reduced from £42.11
(saving £21.06)
Description
Delivery Rates
Coffee contains 98% water. The better the quality of the water, the more purer and less adulterated the aroma. CLARIS reliably filters the water to leave the optimum ingredient for perfect coffee: pure water for pure enjoyment.
The new protective formula was developed especially with modern automatic machines with a One-Touch Cappuccino function in mind. It contains a mineral that stabilises calcium carbonate. This isn't then deposited in the fluid system, even with frequent steam preparation, actively preventing the pipes from becoming blocked.
But CLARIS can offer even more: as well as preventing scale, it also filters many other substances detrimental to flavour and aroma out of the water. But the minerals and fluorides that are important for health are retained.
Description

Coffee contains 98% water. The better the quality of the water, the more purer and less adulterated the aroma. CLARIS reliably filters the water to leave the optimum ingredient for perfect coffee: pure water for pure enjoyment.

The new protective formula was developed especially with modern automatic machines with a One-Touch Cappuccino function in mind. It contains a mineral that stabilises calcium carbonate. This isn't then deposited in the fluid system, even with frequent steam preparation, actively preventing the pipes from becoming blocked.

But CLARIS can offer even more: as well as preventing scale, it also filters many other substances detrimental to flavour and aroma out of the water. But the minerals and fluorides that are important for health are retained.

Delivery Rates

Delivery Service

Minimum Spend £10

Royal Mail Tracked - Standard

Free

Courier - Next Working Day

£3.98

Courier - Next Working Day Before Midday

£12.60

Courier - Channel Islands (2-4 Day)

£23.94

Courier - Northern Ireland (2-3 Days)

£23.94

Courier - Scotland/Highlands (2-3 Days)

£23.94